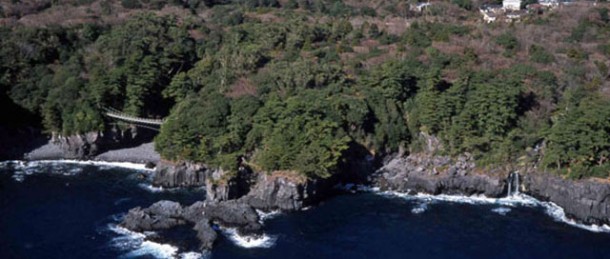 It is the intense lava rock shore of magnificent comings and goings for approximately 9km that lava begins to flow in the sea in Jogasakikaigan when Mount Omuro erupted approximately 4,000 years ago, and is sharpened by erosion action of the sea, and was enacted.
Precipice ranges in shoreline, and view which mind is deep to several folds, and continues from complicated reef, cape to cape is right grand.
There is hiking course of 9km in total length around Kadowaki Lighthouse, and suspension bridge of the sea of monwakisaki is above all thrilling at 48m in length, 23m in height.
There are Prince cape and Kishu yukarinobora shed of the unique name that local fisherman including "is it shrike?" "shinnori" acquired, Izu Ocean Park where flower blooms throughout the year, Nichiren arrival at lotus temple related to holy priest, nature including Shuoshi Mizuhara stone tablet and various highlight over history culture.
On pleasure boat arriving and departing from Futo Port, we can enjoy superb view of Jogasakikaigan from the sea.
Basic Information
Name
Jogasakikaigan
Address
Futo, Ito City, Shizuoka
Closed
—
Open hours
—
Fees
—
Getting there
15km from JR Ito Station; approximately 30 minutes by car
Izukyu, Jogasakikaigan Station, approximately 25 minutes on foot
Parking lot
Charges applied
Contact
Ito Tourism Association reception: from 9:00 to 17:00, (open year round) TEL : 0557-37-6105
Website
http://itospa.com/
※ Please make sure the info you see is the latest in advance.