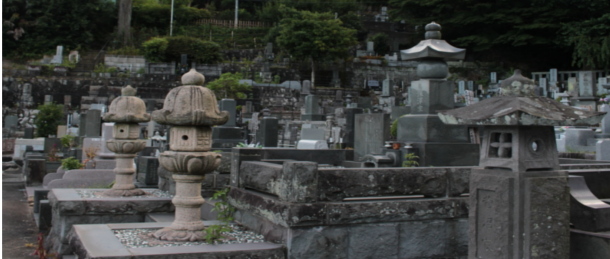 Before visiting to the Jouganji Temple, I haven't ever been in a buddhist temple. I was very curious how it looks like inside. Most Japanese do not believe in a deity or profess to follow any religion, but they celebrate a lot of Buddhist and Shintō rituals. I would say, that they are rather spiritual than religious. First of all, I came to Yugawara on the festival, but when I noticed on the map, that there is a buddhist temple close around there, I wanted to come there as well.
My first visit in a buddhist temple
The history of the Jouganji can be traced back to the 800 years ago. For a number of years, the buddhist schools of temple had changed many times. In the 16th century the temple was restored and started to represent the Soto buddhism school.
Because of rampant plants, it's impossible to see the temple from the street. When I came upon the stairs, I saw the buddhist bell and the hanging wooden beam. They play an important role in Buddhist ceremonies, particularly the New Year and Bon festival. I haven't ever heard the sound of that bell, but I'm sure that it's really loud. When I came closer, the temple seemed to be closed, because there were none around there. Near the temple, there was a cemetery, which looks like a Christian's cemetery, but the graves are much bigger. From the cemetery, you can admire the beautiful landscape of the Sagami Bay and mountains, because it's located on a high hill.
Summary
At that time, I was the only person, who looked over the temple. That's why I could feel the mysterious atmosphere of that place. If you will ever be in Yugawara, don't forget to visit Jouganji Temple.
Weronika Golubska
Information
| name | Jouganji Temple |
| --- | --- |
| Location | Ashigarashimo-gun, Kanagawa Prefecture Yugawara-machi Shirohori 252 |
| Contact | 0465-62-4010 |
| Price | free |
| Opening hours | – |
| Access | From JR Tokaido Main Line Yugawara Station 8 minutes by walk or 2 minutes by car |
| Homepage | http://www.yutoro.co.jp/ |
*Please check for the latest information before visiting.
* This article was written by a trainee from overseas. Please note that there might be spelling and grammar mistakes.