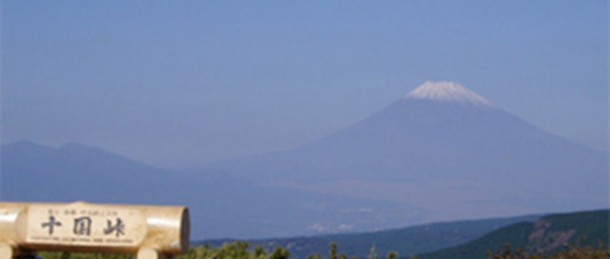 Jukkoku Touge (Ten mountain passes)
Three minutes by cable car from the parking lot along Izu Skyline. The mountaintop of Higanezan Moutain 765m above sea level.
It is the wide prospects to have 360-degree view that peak, day are peak, daily cash income, parts of the mountain called Maruyama, and fire raises above all this name.
It is said that many painters put their efforts to capture these prospects, but no paintbrushes could possibly match this area and beauty. From the top 10 countries can be seen which are Izu, Sagami, Suruga, Totomi, Kai, Awa, Kazusa, Shimousa, Musashi, Shinano and five islands (Oshima, Niijima, Kozushima, Miyakejima, To-shima Island).
Cable cars make round to the mountaintop. Azaleas become in full blossom in spring, the cool breeze brings you comfortableness in summer, the Japanese pampas grass waves in autumn, and the warm sunlight of the plateau welcomes you heartily in winter.
Basic Information
| Name | Jukkoku Touge (Ten mountain passes) |
| --- | --- |
| Address | Rest house: 1400-20, Kuwahara, Kannami-cho, Tagata-gun |
| Business hours | ※Year round, cable car service hours: from 8:35 a.m. to 16:50 p.m. |
| Fees | Cable car fare (roundtrip): 420 yen for adults, 210 yen for children |
| Parking lot | Available (free) |
| Contact | Rest house: TEL: 0557-83-6211 cable car: TEL: 0557-81-6895 |
| Getting there | from Atami Station bus for "Jukkoku Touge" for approximately 40 minutes → terminal |
| Website | http://www.izuhakone.co.jp/ |
※ Please make sure the info you see is the latest in advance.