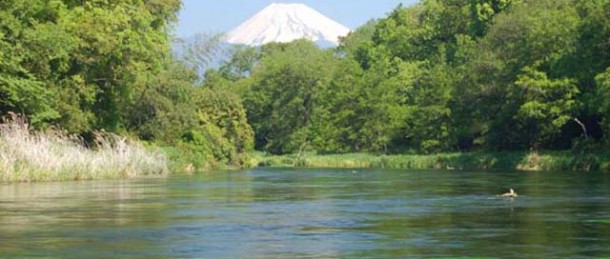 Natural Spring Water System of Kakita River
Blessings of nature
Kakita river, a river within the water system of Kano River, is backed with a spring water source of 1 million tons per day which is the largest amount of spring water in Japan, it is known as the shortest Grade 1 river in Japan with a length of only 1,200 meters.
A large scale eruption of Mt. Fuji happened 8,500 years ago erupted large amounts of lavas. Lavas were stored up between Mt. Hakone and Mt. Ashitaka, flowed along narrow valleys, finally reached the now Mishima City and upstream area of Kakita River. The lava was named Mishima Lava Flow afterward.
Mishima Lava Flow is a layer with porous structures which allow water to be passed within it easily. The layer under Mishima Lava Flow is the surface of volcanic stratum created in ancient times which doesn't absorb water, therefore snow and rainfall in Mt. Fuji and Gotemba area became underground water sources, flowed to the Mishima City and Kakita River, finally poured out of the ground as a system of spring water. This system of abundant water resource not only create Kakita River, it also bring spiring water to many ponds including Komoike Pond, Kohama Pond, Suisenen and Maruike in Shimizu-cho in Mishima City.
Information
Name
Natural Spring Water System of Kakita River
Address
Shimizu-cho, Shunto-gun, Shizuoka
Closed
Open everyday throughout the year
Business housrs
–
Fee
–
Getting there
By car
After left Numazu IC of Tomei Expressway, drive toward Shimoda area via Route 1.
By bus
– Bus for Numasho and Fujiihara (via Suntomoon) [get off at Kakitakawa-Yusui-Kouen-Mae, walk for 1 minute] – Bus via old street between Numazu and Mishima, get off at Tamaidera, walk for 5 minutes.
– Bus via National Hospital between Numazu and Mishima, get off at Nishitamagawa, walk for 5 minutes.
Parking lot
–
Contact
Park Midori Section of Shimizu-cho City Planning Division Tel. 055-981-8224
Website
http://www.izunotabi.com/
* Please make sure the info you see is the latest in advance.