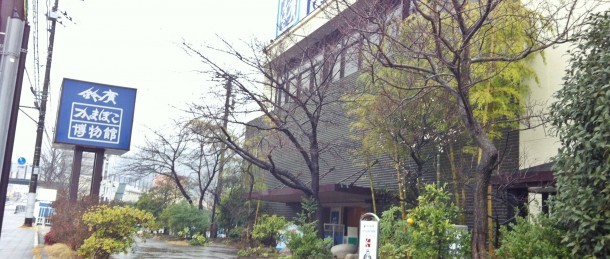 Kamaboko is a traditional food made of natural minced fish. It is called "Yugao" in Chinese. First squish the fish to a minced status, put the minced fish on a wood board to form the shape, then through steam or bake procedures to make a Kamaboko product. Kamaboko has a long history, it had been eaten by Japanese people for more than thousand years. At first, people put minced on a stick to bake, it was the original shape of Kamaboko, it is now known as Chikuwa, a tube-shaped fish roll.


The main ingredient of Kamaboko is white fish. After remove fish blood and fat through repeat cleaning using water, the fish was squished into minced statues.
Hakone Kazamatsuri is known as the Kamaboko village of Japan. After I left the station, I went straight to the main store of Suzuhiro Kamaboko. There are many types of Kamabokos. Although It was a weekday and it rained heavily, there were still a lot of customers in the store.


There is a Kamaboko hands-on classroom in Kamaboko Museum, it was only 3 minutes walk to reach. There are many interesting items displayed at a corner of the museum, it is a funny place to choose a souvenir. A large portion of the shop is used for display purpose, introducing each aspect of Kamaboko. At the inner side of the shop is a Kamaboko workshop, I saw workers making kababoko in the workshop through glass.


There are several workbenches in Kamaboko Hands-on Classroom, everyone has to wear a cap and fasten the apron, wash hands throughly. A staff of the shop will instruct us on how to make Kamaboko. All ingredients have been prepared by the shop, all we have to do it to make kamaboko from minced fish. That is to paste the minced fish to a wooden board while adjust the shape. It looked very easy but actually is a procedure requires highly trained skills. My final Kamaboko work is a bit skewed and I found some holes in it when I sliced it the next day. Sure it is not a good example of good Kamaboko.


After finished the raw Kamaboko, the next step is to steam it. It cost about an hour for steaming. The instructor then taught us how to make a Chikuwa. After finished the raw Chikuwa, it only took 5 minutes to bake, then you can enjoy it.

This is what I made, it smells nice with a roasted yellow skin.



While waiting for my Kamaboko to be steamed, I went to another tour in the shop of Suzuhiro. Outside the shop, rain falls heavily, I saw a train approaches from the far end. "Kazamatsuri" is such a cool name of the place.


I drank tea and ate deserts while watching the rain.



My Kamaboko is finally completed! It is said that eating Kamaboko also has benefits of beauty care and diet.



At the lunch time of next day, I shared the Kamaboko I made with my colleagues. The shape is not so good but the taste is great. Sliced and eat with soy source and wasabi, it is a simple and good taste.


I think the fun of handmade is not valued by the result, but hide in the procedure.


Information
Name
Kamaboko·Chikuwa Hands-on classroom
Address
245 Kazamatsuri, Odawara, Kanagawa
Closed
–
Business hours
9:00 a.m. to 5 p.m.
Fee
1,500 yen (tax not included)
Getting there
Kazamatsuri Station of Hakone Tozan Tetsudo Line
Or take a bus of Hakone Tozan Bus or Izu Hakone Bus and get off at Kazamatsuri Station
Parking lot
30 spaces for large bus, 300 spaces for private car (free)
Toilet
Available
Contact
0465-22-3191 (switch board)
Website
http://www.kamaboko.com/sato/taiken/
* Please refer to the latest info before visiting the place.