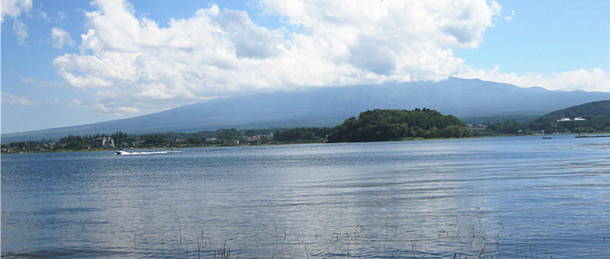 Summer Fuji Five Lakes (Lake Kawaguchi)
The next is Lake Kawaguchi.
Lake Kawaguchi is actually smaller than Lake Yamanaka, but on my impression it looks bigger than Lake Yamanaka.
I think that the artificial beauty was able to balance with natural beautiful scenery well here. Because, including a ground pink, a lavender, Rhododendron dilatatum, hydrangeas etc. color a shore every season. You can enjoy seasonal scenery.
A lavender is in the best season at the moment and colors the shore into purple.
You can eat the lavender flavor soft ice cream, too! The slight fragrance of the lavender and the sweetness gives me a just right feeling, delicious.
Lake Kawaguchi suits better to get on a motorboat than a swan boat.
Unfortunately again Mount Fuji was covered by the cloud. . .
* Please make sure the info you see is the latest in advance.