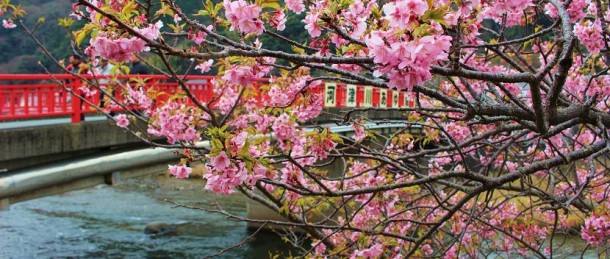 Kawazu Cherry Blossom Festival
Kawazu cherry blossom (kawazu-zakura in Japanese) festival is one of the most visited flower-viewing spot in this part of Japan, and for good reasons. It is one of the earliest blooming cherry in Japan, so it served to scratch the itch of those who couldn't wait another moment to see cherry blossoms. Also, the cherry blossoms bloomed along a river that stretches on for several kilometers.
So, what's so special about Kawazu cherries? They are a natural hybrid between Kanhi cherries and Oshima cherries. The very first Kawazu cherry tree was born just 60 years ago right here, and that first tree is still here today, along with all its descendents. Kawazu cherry blossoms have a strong hue of pink, and stay in bloom for close to a month, much longer than other kinds of cherry blossoms.
Here are some advice from me to photographers. Make sure you check the weather forecast on the day itself. I went on a day forecasted on the previous day to be sunny, but it turned out to be cloudy in the end. The photos didn't turn out well due to the bad lighting.
Due to the massive turnout this festival gets each year, there were many stalls along the walkway that sells souvenirs, food, drinks, and cherry blossom-related goods.
This was the first time I have seen such a thick bloom of cherry blossoms. Breathtakingly pretty. It would be nice if it was less crowded, but I suppose it was to be expected. It would be in full bloom till about March 10, so do visit soon!
By Desheng.
Information
| Name | Kawazu Cherry Blossom Festival |
| --- | --- |
| Location | Hama, Kawazu, Kamo District, Shizuoka Prefecture 413-0513 (Address of Kawazu train station) |
| Homepage | http://www.kawazuzakura.net/index.html |
*Please check for the latest information before visiting.
* This article was written by a trainee from overseas. Please note that there might be spelling and grammar mistakes.