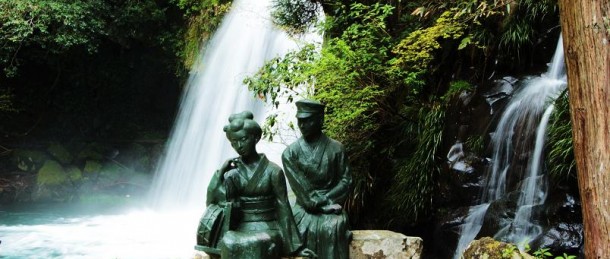 Kawazu Nanadaru Seven Waterfalls
Kawazu Nanadaru are seven waterfalls along a 1 km long trail by the river. All seven waterfalls come in different shape and sizes. In particular, the Shokeidaru is well-known for appearing in famous Japanese literature "The Dancing Girl of Izu".
There are several hot spring inns in the area, which could provide visitors a well-deserved bath after the long walk. Around the Nanadaru information centre, there are several eateries which serve "wasabi-don", which is a local specialty. The original wasabi-don came from "Kadoya", which has appeared on a gourmet TV show before.
One could choose to alight at the "Kawazu Nanadaru" bus stop and take an ascending hike, or alight at "Mizutare" bus stop and take a descending hike. I chose the former as I wanted to have lunch first, and all the eateries are at the Kawazu Nanadaru bus stop area.
I had this exceptionally delicious boar hot pot at "Nanadaru-jaya". It's a pretty famous cuisine in the area. The soup base is miso, and it had a lot of vegetables. The side-dishes were really delicious too, especially the konjac and the bamboo shoot. I recommend this for those who couldn't handle wasabi, like myself. Otherwise feel free to try the wasabi-don.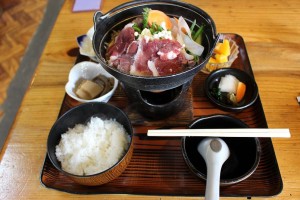 Without further ado, here were the seven waterfalls, in order of appearance.
Oodaru. Only the top could be seen from the trail. The whole waterfall could be seen for patrons of Amagisou hotel.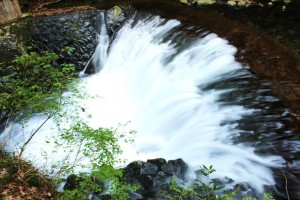 Deaidaru.
Kanidaru.
Shokeidaru. This was the waterfall that made an appearance in "The Dancing Girl of Izu". The statues of the two main characters could be seen in front of the waterfall.
Hebidaru.
Ebidaru.
Kamadaru. The second tallest waterfall, at 23 m, and also the most scenic waterfall in my opinion. A signboard near the viewing platform of the waterfall asked visitors to shout at the waterfall with all their heart and soul. I went ahead and did that.
Seven waterfalls along a scenic trail. As a nature lover, I had nothing but praises for this place. Very, very highly recommended!
By Desheng.
Information
| Name | Kawazu Nanadaru Seven Waterfalls |
| --- | --- |
| Location | Nashimoto, Kawazu, Kamo District, Shizuoka Prefecture 413-0501 |
| Contact | 0558-32-0290 |
| Homepage | http://www.nanadaru.com/ |
*Please check for the latest information before visiting.
* This article was written by a trainee from overseas. Please note that there might be spelling and grammar mistakes.