Kawazu Nanadaru (Kawazu Seven Falls)
Address 379-13, Nashimoto, Kawazu-cho, Kamo-gun, Shizuoka
Parking lot There are free parking lots (capacity 40 cars)
Access by public transport: Get on Izukyu line to "Kawazu Station" and change to a bus to "Kawazu Nanadaru", takes 30 min.
Photo taken on March 2013.
Otaki (Great Wall)
There are seven various waterfalls in a range of 3 km in the Kawazu River. Water is very clear and produces an excellent wasabi. You can spot the fireflies in early summer. Otaki, the great wall is the most down stream and is a largest waterfall in Nanadaru. With a fall of 30m and 7m in width the fall creates magnificent scenery.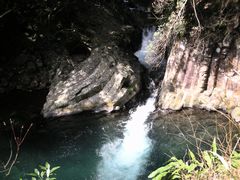 Deai waterfall of "Encounter"
As name implies, it is one waterfall conbined of two waterfalls. Only one comes out in the photograph, but there is another waterfall on the right side. It is drop 2m, waterfall of 2m in width.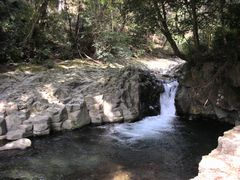 Waterfall of Crab
Neighboring sheer rocky places look like the shell of the crab. Water drops from 2m above, 1m in width. Water of the Kawazu River transparents very much and beautiful.
Restaurant of "deai" meeting
There are many teahouses and souvenir shop along the Kawazu River. You can enjoy soba-noodle using the wasabi which is grown by clear water of Kawazu. Please drop in by all means.
The Kawazu River (water is very clear)
Nanadaru Hiking Promenade

※ This article is provided by the courtesy of "Usagi no Heya (Rabbit Room)", the blog provides tourist attractions information of Kanagawa Prefecture and the surrounding areas including Izu, Hakone, Kamakura, Yokohama and Yamanashi. http://livesnow.web.fc2.com
※ Please make sure the info you see is the latest in advance.