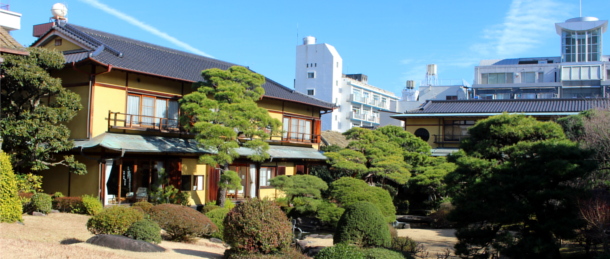 The Kiunkaku structures was built by Nobuya Uchida, who made a fortune during World War. He built the first house, a Japanese-style structure, for his mother in 1919. Kiunkaku, an elegant mix of Asian and Western styles, were used as a hotel loved by a number of intellectuals, including novelists Naoya Shiga, Junichiro Tanizaki and Yukio Mishima. It was here that Osamu Dazai finished 'Ningen Shikkaku' a masterpiece of the modern Japanese novel, shortly before his 1948 suicide in Tokyo. The hotel was eventually closed and the compound is now owned by the city, which opened it to the public in 1999.
Probably, for foreigners, the most impressive part of the object is the main part, where you can see Japanese-style rooms. If you haven't ever seen interiors like that, you will be impressed how minimalist they are. Tatami flooring rooms were totally empty and there weren't any furnitures and decorations there. Tatami is type of mat, traditionally made using rice straw to form the core, the cores of contemporary tatami are sometimes composed of compressed wood chip boards or polystyrene foam, but I think, that mats in Kiunkaku are made from traditional raw. Near the entrance you have to change your shoes into slippers, but when you come into rooms covered with tatami, you have to take off your slippers also. Because of tatami's material, you can feel very typical, natural smell in Japanese- style rooms, which is always very relaxing to me. Due to the such a minimalist style of the rooms, it' s very easy to notice the details like fusuma (vertical rectangular door which can slide from side to side), and small composition of flowers placed next to the wall. All the rooms have one typical wall made from windows, then they are naturally lighted by sun.
Next, I came to the part with rooms of western style. Tobu Railway Company founder Kaichiro Nezu added two splendid western-style houses and the garden. One of these houses, finished in 1932, has a guest room, dining room and sun lounge with interiors combining Japanese, Chinese and Western designs. The guest room is English Tudor, and the interior of the sun lounge, adorned with stained glass and tiles, is based on French art deco. Wooden massive furnitures, thick curtain and fireplaces in rooms move visitors to European villas from 19th century. Also, near widespread windows there were sitting-room parts with comfy armchairs, where you could sit on and admire landscape of outside garden. Garden is visible regardless of room, you come into. Founders of the next parts built all the sections around the garden, then today it's exactly inside the structure. When I finished sightseeing of interiors, I came outside. What surprised me a lot, in Atami there is the type of Japanese cherry, which already started to bloom. However, it's only January and I didn't expect, that any plant starts to bloom so early.
Summary
The Kiunkaku is very unique and definitely worth seeing tourist spot. Unfortunately, information boards for tourists are only in Japanese and there are any short text in English. However, place are full very original structures with many styles of interior design and you should definitely come there, if you are going to visit Atami's surroundings!
Weronika Golubska
Information
Name
The Kiunkaku in Atami
Location
413-0022, Atami-shi Showa-cho 4-2
Contact
0557-86-3101
Price
Adults 510 yen
High and middle school students 300 yen

 


Opening hours
9.00-16.00 00
Access
From Atami Station take the local bus bound for 'Kiunkaku'. Get off at 'Kiunkaku mae'
Homepage
http://www.city.atami.shizuoka.jp/page.php?p_id=900
*Please check for the latest information before visiting.
* This article was written by a trainee from overseas. Please note that there might be spelling and grammar mistakes.