20 years ago, Atami was then the top honeymoon destination for newly-wed couples, there were many great sightseeing spots here.

Nowadays, young people in Japan tend to visit Okinawa or overseas for relaxation. However there are more and more foreign tourists visit Atami these days.
After left Atami Station, there was a restaurant street located at the right hand of the station which was very crowded, many shops also sell sea products. I entered an alley and saw an eel rice bowl restaurant. The store front of the restaurant is very modest, but the eel rice bowls sold here are very delicious. However it is a little expensive.


Kiunkaku stand still in moving clouds and people, seems retain one style through time and space.
The stunning beauty of Kiunkaku seems can make time stop. Visit here gave me feeling of relief and comfort.


I removed my shoes, changed into a pair of slippers and entered the house, the first room I saw was a Japanese style room called "Kirin." The room truly represents the beauty of traditional Japanese architecture, radiating a romance touch of the Taisho Era.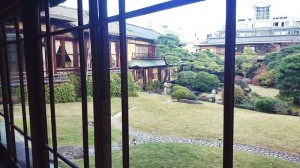 There is a western style cafe on the right hand of Kirin, I heard laughing and talking in a distance. On the left side, there are two western style rooms called Gyokkei and Tamahime. After passed through the Japanese style corridor, I saw a spacious western style bath room called Kongo, it was created in a Roman style, represents the luxuriousness of old time.


There are three exhibition rooms alongside the corridor with descriptions of many great writers of Japan such as Yuzo Arimoto, Naoya Shiga, Junichiro Tanizaki, Osamu Dazai and Koyo Ozaki, etc. These exhibitions tell people the correlations between these great writers and Kiunkaku.



I love Japanese style corridors, there are refinements and elegance of every detail.



Kifunkaku are full of traditional Japanese beauty, it well combined Asian and Western styles, after days of grinding, becoming inclusive, and heavy.

There is a Japanese style courtyard outside Kiunkaku. During the early years after it had been constructed, you can overlook the sea from here. However there are many other building blocked the sea view nowadays.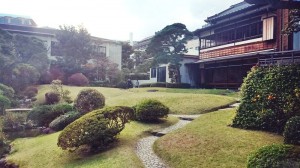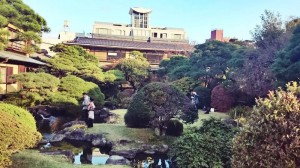 At sunset, sunlight poured at the wall, turned it to golden.

Information
Name
Kiunkaku
Address
4-2, Showa-machi, Atami, Shizuoka
Closed
Each Wednesday and Dec 26 to 30
Business hours
9:00 am to 5 pm (last admission 4:30 pm)
Fee
510 yen for adults, 300 yen for middle school and high school students, free for children at the age of elementary school or younger.
Getting there
Atami Station Bus Terminal
Take a bus for Baien and Ainohara area from platform 1, via Shimizu-cho cycling line, get off at "Kiunkaku-mae"
Take abus for Sasaragadai and Seizan, Hakone area, get off at "Kiunkaku-mae"





Parking lot
Free parking lot of Kiunkaku
Toilet
Available
Contact
Tel. 0557-86-3101
Website
http://www.city.atami.shizuoka.jp/page.php?p_id=893
* Please refer to the latest info before visiting place.