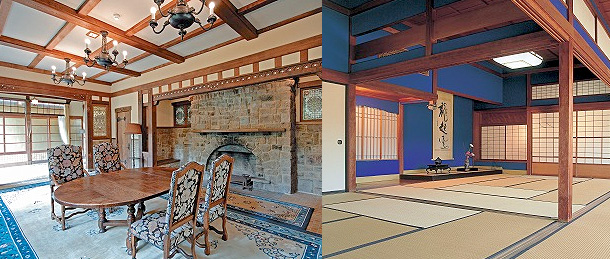 Kiunkaku Villa (Tangible Cultural Properties Designated)
The origin is the villa owned by Shinya Uchida who acted as a railroad minister at the time of the Tanna tunnel opening to traffic and played an active part in industry and government, it was built in 1919 (Taisho 8) for his mother's recuperation. It's one of the Japan's three biggest villas and called Villa of Atami", other are Iwasaki Villa, which is not open to the public, another is the Sumitomo Villa which no longer exists.
The entrance, the ridge of "Kirin", "the peacock" of the detached room leave a figure at the time.
Later "the railroad baron" Kaichiro Nezu, the founder of the TOBU Railway group owned this place in 1925, and redeveloped to a current figure.
In 1947 (22, Showa years) the place was reborn as an inn, and loved by Japan's big writers like Yuzo Yamamoto, Naoya Shiga, Junichirou Tanizaki and Osamu Dazai.
The ridge of "Kiri " "Taihou", the ridge of "the peacock", the ridge of "Diamond" and "Roman style bathroom", the ridge of the "Gyokukei" "Princess", the front gate and four 1 gates of were appointed in the tangible cultural property of the city in March 2002.
"Kirin" adopts structure of the Western style in spite of being an appearance of the traditional Japanese style of a main building using modern and pioneering techniques.
"The peacock" a relatively quiet building, moved its location twice .
"Kongo (Diamond)" is a Western-style building of mother-of-pearl works.
At reconstruction most materials used in "Roman-style bathroom" were changed to modern ones but stained glass and the stained glass, terracotta spous of the bath leave the old face of the past.
The ridge of the "Gyokukei" "Princess" consisits of the terrace area and two rooms, main "Gyokukei" is the building of the British Tudor style. The cover of the fireplace by a decoration of Sanskrit and bamboo ceiling of an entrance space are making unique space.
In 2000 Atami city obtained its management and being utilized as preservation, hosting a visit, a rental facility and has received many visitors ever since. Culture tourist facility "Kiunkakku" is Atami City's pride, please visit!
Basic Information
| Name | Kiunkaku Villa (Tangible Cultural Properties Designated) |
| --- | --- |
| Address | 4-2, Syowacho, Atami-shi (Shimizu-cho mall neighborhood) |
| Business hours | from 9:00 a.m. to 17:00 p.m. (dmission until 16:30 p.m.) closed : Wednesdays, the end of the year holidays |
| Fees | 500 yen for adults (group rate 400 yen), 300 yen for high and junior high school students (group rate 200 yen), no charge for primary schoolchild and smaller |
| Parking lot | Available (free for max. 37 regular cars ) ※ no space for coach |
| Contact | TEL: 0557-86-3101 |
| Getting there | from Atami Station, bus for the "Ai no Hara" area →" Kiunkaku" stop, about ten minutes ride |
| Website | http://www.city.atami.shizuoka.jp/ |
※ Please make sure the info you see is the latest in advance.