Colored leaves of the late fall of Hakone and Izu
We went to see autumn Hakone, colored leaves of Izu on the night of Sunday, November 24.
I leave Odawara by car at about half past 8 a.m. and get on the Seisho bypass.
We intend to see by car here and there, but weather is calm at all, and it is ideal day for holiday making fantastically today. The waves of the shore are slow and gentle too.
Ten mountain passes
I advance to the Hakone turnpike, and it is arrived at the Hakone broad perspective mountain by Seisho bypass. Because Mount Fuji looked big fantastically neatly, I am going to enter the parking lot to take a photograph, but aim at reconciliation Izu Skyline by congestion.
A drive-in is seen on the left as soon as I entered Izu skyline. There are "Jyukkoku mountain pass cable cars" there. I decide to rise to the top by cable car this time.
Seeing from bottom, it is such a feeling. Still, the sky is blue today!
This is the feeling when you are in the cable car, and maybe it can only take up to15 people.
Steep grade that does not come when we look back toward the back that we aim at the mountaintop and climb.
Besides, Mishima, Numazu, we can see Gulf of Suruga over there. It is said that the origin of Jyukkoku-touge mountain passes is because from the top of the mountain, ten countries can be seen. Because it is an old country even if I say ten countries (that a country of Sagami such as the country of Suruga), it is different from the country in the present world.
It is top where we arrived at! The view is great, and must-see!
This building is the rest house and a stand, but the nothing really sold there I need to buy, but the view is a panorama of 360 degrees.
It is Mount Fuji which we saw from the mountaintop. The sky is a little bit cloudy because of the weather, but I was glad to see magnificent Mount Fuji.
Mount Fuji is always good! The best!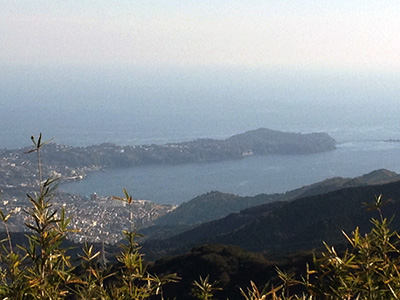 I can look around all directions from the mountaintop, but this photograph is the Manazuru peninsula on the east under eyes.
I went there for fishing sometimes. Because fishing is possible in this sea, you can come here fishing in your spare time. ?
This is today's destination, "Niji No Sato (means the homeland of rainbow)" in Shuzenji, Izu I buy a souvenir at the stand of the foot, and to aim next. I was expecting to see 2,000 maples (maple) planted here.
To get to the destination via Izu-Skyline my require 30 minutes. Or need more times.
The road is really comfortable to drive.
There are such backroad and mountain path on the way, too. We advance while seeing colored leaves.
Niji No Sato
At last it is "Niji No Sato" where we arrived at.
Tourist of "maple-tree viewing" came by privately-owned car and sightseeing bus in others in great numbers on the way.
There seems to be colored leaves famous place in these outskirts everywhere. Another place will do introduction stripe at the next opportunity, too.
It is colored leaf of the neighborhood of entrance. Contrast with blue sky is beautiful. Ticket center is on the right. Parking lot was considerably large, and a great number of people came by sightseeing bus.
We entered, and there was this locomotive immediately. It is slightly tight, but seems to be pleased with child so that adult gets on even if we say locomotive.
It is colored leaf of guide. When the sun proves right, bright red leaf glitters.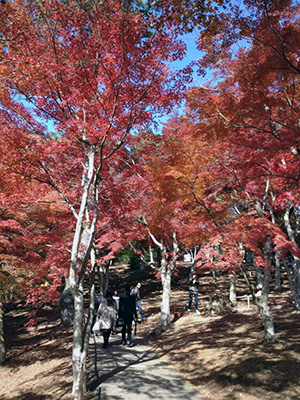 Walk in the beautiful colored leaves is such deluxe experience.
There are colored leaves everywhere. There were a lot of couples, too.
There a shops where you can borrow costume play clothes and take pictures.
Colored leaves around Japanese garden. Japanese garden was theme here.
Japanese garden is beautiful.
Locomotive which we introduced in the beginning runs in garden.
Many children get on.
Joren no Taki Waterfall
I watched it with wonderful colored leaves of "Niji No Sato" of magnificent scenery, Shuzenji of "jyukkoku mountain passes" of Hakone, but "the waterfall of Jyoren" of the Amagi hot water Jyogajima island in today's last.
When autumn colors were clean, we expected here, but result did not have many colored leaves.
However, it was roaring, and heroic waterfall made a sound and ran.
It is entrance of waterfall.
It becomes large parking lot, and sightseeing bus stops last time, too.
We go down from center part to lower (river).
We go down such a steep stairs. Return seems to be somewhat hard.
But because I want to watch the waterfall, so I went down. Return was hard as expected.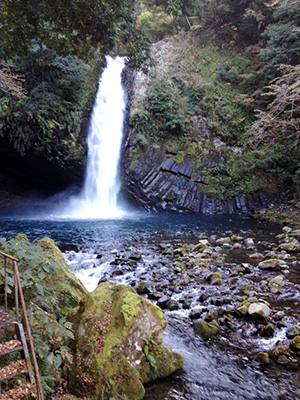 Is drop around 30m? Will there be around 50m?
Scale is not that good, but we will say form, or we will say figure or see plenty and meet, and there is. There was largeheartedness all right and felt that it was very good.
There was the figure of the tourist who did char and Satsukimasu salmon fishing here and there near.
I was able to introduce to everybody of these three places, but want to introduce more famous places on the next time.
Basic Information
Name
Jukkoku Touge (Ten mountain passes)
Address
1400-20, Kuwahara, Kannami-cho, Tagata-gun, Shizuoka (rest house)
Closed
—
Open hours
Open all year round
Fees
Cable car fare (roundtrip) / adult (more than junior high student) 430 yen, dwarf (primary schoolchild) 220 yen [discount coupon]
Getting there
By bus Atami Station > Approximately 40 minutes terminal getting off for ten mountain passes
By car Tomei Expressway Atsugi IC > Manazuru road
Parking lot
Available (free)
Restroom
Available
Contact
Rest house TEL: 0557-83-6211
Website
http://www.izuhakone.co.jp/
Basic Information
Name
Shuzenji, Izu Niji No Sato
Address
4279-3, Syuzenji, Izu-shi, Shizuoka
Closed
Tuesday
Open hours
From April to September: From 9:00 a.m. to 17:00 p.m.
From October to March: From 9:00 to 16:00
Fees
An adult (older than a junior high student): 1,200 yen
Dwarf (4 years old – primary schoolchild): 600 yen
Getting there
By train or bus JR Mishima Station > It is approximately 30 minutes by Izuhakone Railway Sunzu Line > Getting off at Shuzenji Station > Shuzenji Station > For Tokai bus (Platform 6 for Niji No Sato) approximately 20 minutes, > Niji No Sato getting off
By car Tomei Expressway Numazu IC / Shin-Tomei Nagaizumi Numazu IC > Izu traversing road > Izu Chuo Expressway > Shuzenji road, Shuzenji IC
Tomei Expressway Numazu IC / Shin-Tomei Nagaizumi Numazu IC > National Road No. 1 > National highway No. 136 > Shuzenji Temple
Parking lot
Available
Restroom
Available
Contact
Shuzenji, Izu Niji No Sato TEL: 0558-72-7111
Website
Shuzenji, Izu Niji No Sato English | 中文
Basic Information
Name
Joren no Taki Waterfall
Address
892-14 Yugashima, Izu City, Shizuoka Pref.
Closed
—
Open hours
Stand: From 8:30 to 16:30
Dining room: From 11:00 to 15:00 (order stop)
Fees
—
Getting there
By train or bus
From Tokyo, Nagoya, the Mishima area
[JR Mishima Station ]-– Izuhakone Railway —–[ Shuzenji Station ]-– Tokai bus —Joren no Taki Waterfall (for for Kawazu or forest Hall of Showa)From Minamiizu, Higashiizu
[Kawazu Station ]-– Tokai bus —Joren no Taki WaterfallBy car
The Tomei Expressway —–[ Numazu IC ]-– national highway Route 134.414 —Joren no Taki Waterfall
Parking lot
Available
Restroom
Available
Contact
Waterfall sightseeing center TEL of kiyomehasu: 0558-85-1125
Website
Waterfall sightseeing center of kiyomehasu
* Please make sure the info you see is the latest in advance.