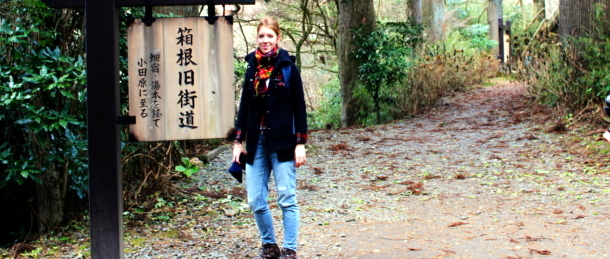 The Hakone Old Tokaido Highway
The Hakone Old Tokaido Highway is around eleven kilometres route from Moto-Hakone to Hakone-Yumoto, built in Edo period. Now we can still enjoy some parts of the Old Hakone Highway in the same way that people, who were living centuries ago. My trip was just a short section of 32km long route, but even during this short trip I could feel the unique historic atmosphere of the Old Hakone Highway.
The start point of my trip was the Cedar Avenue, that is 500 meters forest path. On both sides of the path grow very thick and long cedars. The trees reach up to 30 meters high, and some have a girth of over four meters. At the end of the path, you can admire a beautiful landscape of the Lake Ashi. If you're lucky, you'll see Mt. Fuji as well! After going through the asphalt road, I turned right and went along the forest path. At first I get to the monument, which commemorates two western men: Kaempfer and Birnie. In early Edo, only Holland had official diplomatic relations with Japan. Engelbert Kaempfer was a medical officer of the Dutch East-India Company who accompanied the Dutch mission to Yokohama and Edo twice. Later he introduced Japanese history, politics, religion, trade, and his travels to Edo in his book.
Then, I went through the long stone‐paved road, that was built in 17th century to provide the convenient journey during bad weather conditions. Today it's rather difficult for walkers, because I'm sure that in the Edo Period, this road made the journey much easier. Some parts of the road are steep and you have to walk uphill but it's not as hard as regular hiking. However, when it's rainy, it's easy to slide on a stones, then watch out! After one and half hour of walking, I got to the goal point, the Amazake Chaya. Since the Edo period, the teahouse Amazake Chaya has welcomed travelers looking for a refreshing break. Inside the teahouse, you can taste traditional Japanese drinks, that is served hot, cold, or at room temperature. The most famous is amazake, a drink made from fermented rice in the saké family. The teahouse also offers mochi, a preparation of sticky rice, sweet or salty, for those travellers feeling a little peckish. I ordered the amazake, but actually I didn't like it very much.
I was still full of energy after the hiking, then I decided to visit one more nature place, that is in this area. However, according to the guide book walking to the Hiryu Falls takes only 30 minutes, but actually if you want to see the higghest fall, tou have to go uphill over 45 minutes from the Hatajuku bus stop! Hiking was definietly more difficult, than I suspected, but the view, that I fianlly saw in the end was really worth hiking!
Summary
I recommend the Old Hakone Highway for people, who like historic trails and hiking. Route is surrounded by lush greenery and full of interesting spots. If you like challenges, let's go on the Hiryu Falls as well! When you get off the bus at Hatajuku, you will easily find the appropriate route to the falls.
Weronika Golubska
Information
Name
The Hakone Old Tokaido Highway
Location
Start point:Cedar Avenue
Kanagawa-ken ashigarakami district Hakone 250-0521
Contact
(045)210-3275
Price
–

 


Opening hours
–
Access
From Hakone Yumoto station, take the Hakone tozan bus bound for 'Hakone Machi', get off at 'Onshi Koen mae'
Homepage
http://hakone-hiking.sakura.ne.jp/index.html
*Please check for the latest information before visiting.
* This article was written by a trainee from overseas. Please note that there might be spelling and grammar mistakes.