I had the opportunity to attend a very special event called the "Hibuse Matsuri" (firewalking festival) . This was an event for Yamabushi (mountain ascetic hermit) to to walk on fire as part of their training.
First and foremost, the grand entry of the monks.
The monks entered the temple for a very long chanting session. Many Buddhists sat down and listened to the chant. This went on for more 30 minutes.
Once the chanting ended, the monks marched to the ritual ground and commenced a long ceremony of "Yamabushi Mondou". This is a ceremony of questioning to test the monks about their knowledge and to confirm that they indeed belong to the same sect.
The monks then proceeded to brand weapons as a display of their mastery of the weapons. There was a sword, an axe, a spear, and a bow. When all was said and done, the burning commenced.
This was the hill of old Gomafuda (talisman) and grass to be burnt.
The burning then began. All throughout the burning, the monks chanted and people threw into the fire 祈願木 (wishing wood) with their wishes written on them. It was believed burning wishing wood in holy fire would make the wishes come true.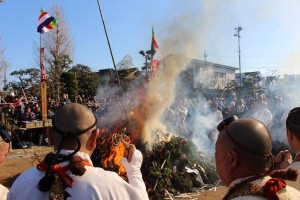 When the hill was almost down to nothing, it was time for the firewalking to begin. Monks branded their weapons and crossed the fire.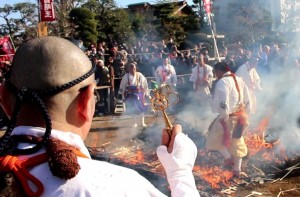 When all the monks were done, they opened a wide path between the fire to allow audience to cross. Audience crossed while praying that no disasters or illness would fall upon them.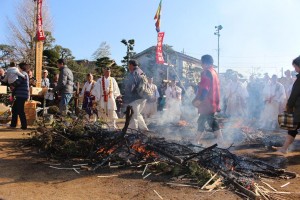 That concludes the report. A truly religious event, and very fascinating. This is an event of a small scale, but do come check it out if you visit Japan in late January.
By Desheng.
Information
| Name | Manpuku-ji Hibushi Matsuri |
| --- | --- |
| Location | 487 Nakazato, Odawara, Kanagawa Prefecture 250-0872 |
| Contact | 0465-42-1235 |
| Time | 28 January 12:00 to 15:00 (firewalking from 13:00 onwards) |
| Homepage | http://www.city.odawara.kanagawa.jp/kanko/event/JAN/manpukujihibuse.html |
*Please check for the latest information before visiting.
* This article was written by a trainee from overseas. Please note that there might be spelling and grammar mistakes.