Manyo-Koen Park / Hot Spring of Doppo-no-Yu
Address 566, Miyakami, Yugawara-machi, Ashigarashimo-gun, Kanagawa
Address Hot Spring of Doppo-no-Yu: 704, Miyakami, Yugawara-machi, Ashigarashimo-gun, Kanagawa
Parking lot Toll parking lots available
Access by public transport: Get off at the "Yugawara Station" of the JR line, from there take a bus for Oku-Yugawara and Fudou-Taki for 12 minutes, get off at the "Ochiai-Bashi" bus stop.
Photo taken on March 2013.
Scenery of the Manyo-Koen Park
It is a park chosen as 100 selections of Japanese historical parks with superior historic cultural resources. It is said that many great writers visited this place, and it is the only hot spring had been mentioned in Manyo-Shu, the Japanese classic literature. There are also many monuments inscribed with Tanka poem in the park.
Mountain stream in the Manyo-Koen Park.
There is mountain streams in the park, you can take a walk through the garden with the delightful sound of the water around you. From early June to late June, "the felicity of fireflies" will be held at the park, where you can enjoy a show performed by the flocks of fireflies. (Please refer to the official website for more details.)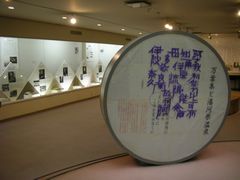 The inside view of the Kanko-Kaikan building.
There are Kyodo-Shiryokan (Local Folk Museum) and small-scale restaurant located inside the Kankou-Kaikan building near the entrance of the Park. You can learn about great writers of Japan related to the Manyo-Koen Park. (Free to enter.)
Scenery of the Manyo-Koen Park (2)
Path of the Literature

Hot Spring of Doppo-no-Yu:
The view of the Doppo-no-Yu Hot Spring
There are nine types of hot spring foot bath with the health effects of anti-aging and relaxation. This is a place where everyone can have a great time regardless of their age. What makes this facility special is that the facility forms a shape resembling the shape of the island of Japan when observed from the sky.
View of Doppo-no-Yu (2)
Spring of Joy

※ This article is provided by the courtesy of "Usagi no Heya (Rabbit Room)", the blog provides tourist attractions information of Kanagawa Prefecture and the surrounding areas including Izu, Hakone, Kamakura, Yokohama and Yamanashi. http://livesnow.web.fc2.com
※ Please make sure the info you see is the latest in advance.