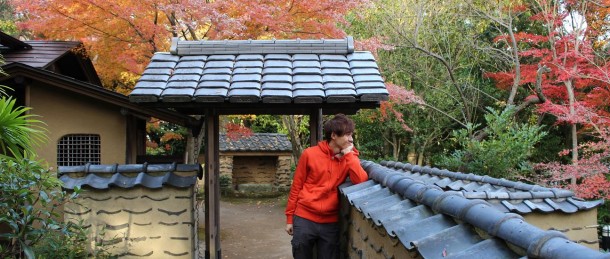 Hello! My name is Desheng. This is my very first article, and I hope you will enjoy reading it as much as I did writing it.
I visited the Matsunaga Memorial in Odawara city, Kanagawa prefecture. Even though it was already December, autumn was still going strong this part of Japan.
Matsunaga Memorial
Let's have a bit of background on this memorial.
"Matsunaga Memorial was the property of Matsunaga Yasuzaemon (or Jian), a well-achieved businessperson and tea expert known as the "king of electricity" before and after the war. Matsunaga moved to Odawara in Showa year 21, and built the memorial within his own residence in Showa year 34 to display his antique art pieces he collected over those years. In Showa year 54 his residence was given to Odawara city as public property.
From Showa year 55 October onwards, the town council used the Memorial's main and sub-building as a branch of the Odawara Cultural Museum to hold special exhibtions.
Also, in Heisei year 19 February, the Memorial's garden was chosen as one of the "top 100 historical gardens of Japan". It is suitable for flower viewing all four seasons of the year."
Excerpt from Odawara city's official homepage. URL:www.city.odawara.kanagawa.jp/public-i/facilities/matsunaga/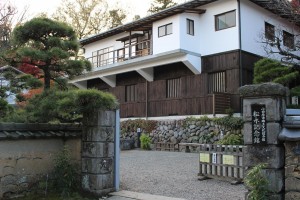 A beautiful scenery greeted me as I entered the main gate. As there were few people around, the atmosphere was tranquil and calming. The trees had a beautiful variety of colours, making this a great spot for photography.
There was a large pond in the middle of the garden. Lively carps populated the pond.
In particular, this carp seemed to have taken a liking to me. She followed me around for a while, and was kind enough to look at the camera when I took photos of her. Perhaps she was a model in this little world of carps.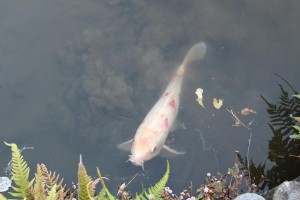 Right in front of the main gate were the main and sub-buildings of the Matsunaga Memorial. The main building had two storeys. The first storey was an exhibition of of books authored by Matsunaga himself and other items related to him. The second floor had tea rooms available for use by the public. I took no photos here as it was not allowed in the exhibition room.
Roukyosou (House of the old zelkova)
I headed for the Roukyosou next. Along the way was this majestic tree. This was the zelkova tree for which the Roukyosou was named after.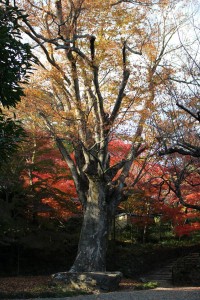 I arrived at the Roukyosou after climbing a bunch of stairs. The surrounding looked like this.
As my country has only summer, it has absolutely no red leaves at all. Seeing such vivid colours of autumn for the first time in my life was a novelty.
Let's have some background on the Roukyosou as well, shall we?
"Matsunaga Yasuzaemon, also known as Jian, built the Rousoukyo in Showa year 21 as his residence when he moved to Odawara. He named the house after the huge zelkova tree in front of the house. Jian held countless tea parties here and invited many famous tea experts, politicians, academians, architects, and artists. The 4.5 tatami mats tea room, and 3 tatami mats alcove, were some examples of the unique artistic style chosen by the tea expert Jian. The house was registered as a national tangible heritage."
Excerpt from Odawara city's official homepage. URL:www.city.odawara.kanagawa.jp/public-i/facilities/matsunaga/
I went crazy with the camera here. Just like the second floor of Matsunaga Memorial, this space could be used by the public. The contrast between the sunlight and the shadows of trees and the building pillars painted a beautiful picture. The atmosphere made one want to spend a slow and relaxing afternoon here drinking tea and chatting with a loved one.
Thank you very much for reading my article. Please look forward to the next one as well.
By Desheng.
Information
Name
Matsunaga Memorial
Address
Kanagawa prefecture Odawara city Itabashi 941-1
Contact
0465-22-3635
Opening hours

Tea room : 9:00 AM -4:00 PM

Exhibition room : 9:00AM -5:00 PM

Closed on

Year-end and new year holidays (12/28-1/3)

Fumigation periods (March)

Main contents

Tea room (charges apply) *, gallery

Please check the homepage for prices. URL:http://www.city.odawara.kanagawa.jp/public-i/facilities/matsunaga/

Parking
20 lots
Admission fees
Free
Access
From Hakone Tozan line Hakone-Itabashi station, walk for 10 minutes.
From Odawara station take the bus bounded for Hakone and alight at the Kami-Itabashi stop and walk for 6 minutes.
From Odawara station take the bus bounded for Hakone and alight at the "Itabashi" stop and walk for 10 minutes.
*Please check for the latest information before visiting.
* This article was written by a trainee from overseas. Please note that there might be spelling and grammar mistakes.