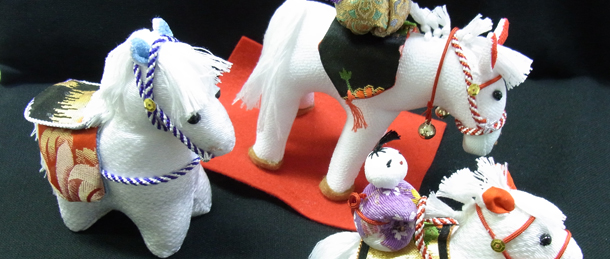 Izu-Nagaoka Onsen was once a well-known silkworm-raising district in the past.

Mayudama-kazari was a decoration used in the past to celebrate harvest and to pray the increase of silk production.

However silkworm raising business was declined gradually since a large scale typhoon hit Kanogawa River in 1958, you can rarely seen any person who raising silkworms in this area these days. Mayudama-kazari had also disappeared from people's life.

Izu-Nagaoka Onsen has become a famous sightseeing area since then. In order to serve tourists with a true spirit of hospitality, local residents have decided to make Mayudama-kazari revive once again.

Local residents made Mayudama-kazari with vivid colors by collecting and using Kimonos, a type of traditional Japanese garment for woman, from Ryokan's landladies and Geishas who lived in a strict traditional style. Thanks to their efforts, tourists now can enjoy these meticulously made artworks through exhibitions held by locals.

Mayudama-kazari is also considered by locals as a lucky charm which brings harvest, safety and prosperity.

You can also enjoy a Mayudama-kazari making hands-on experience during the following periods.
Information
Event name
Mayudama-no-sato 2015
Place
Special venue at Hotel Sunvalley Fujimi in Izu-Nagaoka Onsen
Address
185-1, Kona, Izunokuni, Shizuoka
Period
10 am to 4 pm on Jan 26th to Mar 10th of 2015
Participation fees
Admission free, 600 yen for Mayudama-kazari making hands-on experience
Contact
Tel. 055-948-0304
Getting there
[By train and bus] Take a bus for Izu-Nagaoka Station of Izu-Hakone-Tetsudo Sunzu Line, get off at Max-Value-mae bus stop, walk for another 5 minutes.

[By car] From Numazu IC of Tomei Expressway or from Nagaizumi Numazu IC of Shintomei Expressway, drive via Route 1 and Route 136 for approx. 40 minutes, and drive via Izu-Junkan Expressway for approx. 25 minutes.

Website
http://www.izunotabi.com
* Please make sure the info you see is the latest in advance.