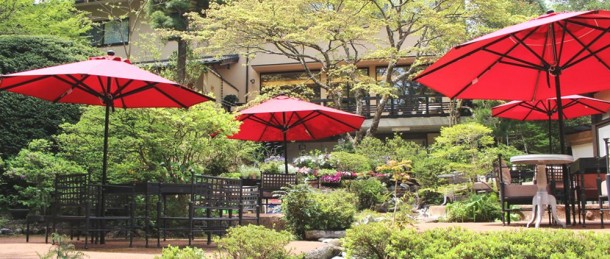 Hello everyone! Today article, we will go to Meissen shop at Gōra, Hakone area. This place are divided into two main area. The first one is Cafe de Meissen near Gōra station and the second one is Meissen Museum (Art Gallery) and also Auberge de Meissen which is a lodging place and restaurant (Restaurant Meissen) too. Ok, let's take a look at first place 😀
Meissen de Café
We start with the café near Gora station (just 2-3 minutes walk!), a little beautiful café with European atmosphere. The café has 2 floors and a "half floor" between first and second floor. The café design were very pretty, and they also show some of the porcelain collection.
At here we ate pizza and gelato. Their recommended item are black pizza (made with squid ink), mix fruit pancake (only 20 plate serve per day) and gelato. The speciality of this café is cheese I think. All the pizza have an enormous amount of cheese and it will melt inside your mouth. I recommend it for you who like pizza and of course, who like cheese! The mix fruit is also their recommended product. Only 20 plate a day so you need to hurry up before its run out.
Last, we ate gelato ♥ (I love sweets!) No worries to eat this gelato because it is only have half from usual calorie, so you can eat it with ease. There are couples of blueberries to add the flavor of gelato too. As you eat the gelato, the lower part is full with cornflakes, giving the gelato a perfect combination of soft sweet cream and crunchy cornflakes to balance the overall taste.
Meissen Art Gallery
Ah~ we were full after eat all those yummy food. Time to go to the next destination! From the café we took a walk about 15 minutes to Meissen Art Gallery (The road was a little steep though, better not wear high heels!)
Here it is, the Meissen Gallery! A museum located in the midst of beautiful nature. We will start with the museum that exhibit various artsy ceramic. To see the collection here you need to pay 1,600 JPY (1,100 JPY if you are student).
Actually it is prohibited to take picture inside the gallery. But the owner gave us a special permission! Please enjoy a little sneak peek from the fascinating collection from Meissen gallery.
After walking around the gallery, we went to the beautiful garden next to it. Here you can also enjoy a cup of tea or coffee. The garden was lovely and many flowers also decorate the sight.
Beside eating and enjoying the collection, Meissen also provide little hotel for you who want to stay over. It is Japanese style rooms. They have 5 rooms, named according to Japan flower like sakura (cherry-blossoms), ume (plum), and so on.
The first floor of the hotel there are onsen! Both indoor and outdoor onsens 😀 I really want to get in the onsen, but too bad I don't have time to try it. So let's go to the last part, Meissen Restaurant.
Restaurant Meissen
Restaurant Meissen is an Italian style restaurant. We actually already full from the pizza at Meissen café, but we get a chance to taste the food over here too (lucky!). The first one was Gnocchi made from potato with cheese cream. A LOT of cheese cream. Next one is the spaghetti/pasta. Look at the interesting duck package XD This food is not in the menu. Rather, it is only served for special occasion such as birthday party and you need to request this personally with the chef.  
We had so much fun from all delicious food, seeing beautiful high-class porcelain, and fresh nature surrounding the area. So before we get back to the station, we decided to relax a little at the foot onsen. Yes, you can enjoy this one just by opening your shoes and socks! It is free!!! The water is also good for your skin because it is not usual warm water. This water is brought here from the Oowakudani onsen. After you finished you can also pay 100 JPY for a little towel to wipe your feet, or you can just let it dry 😛
Thank you for reading! Please look forward for another article around Fuji Hakone and Izu area ♥
 
-Vivi-
Food & Drink Information
| Shop Name | Cafe de Meissen |
| --- | --- |
| Address | 1300-407 Gōra, Hakone-machi, Ashigarashimo-gun, Kanagawa-ken 250-0408, Japan |
| Contact | +81-460-86-1288 |
| Reservation | Not necessary |
| Email | ank.meissen@gmail.com |
| Getting There | By train via Hakone Tozan Line go to Gōra Station and then walk approximately 2-3 minutes |
| Parking lot | N/A |
| Budget | 1,000 JPY – 2,000 JPY |
| Open hours | 10:00-20:00 |
| Closed Day | Open throughout the year |
| Genre | Pizza |
| Recommends | Completely free of cigarette smoke and you can bring your pet(s) |
| Languages available | English |
| Free Wi-Fi | N/A |
| Credit card | N/A |
* Please make sure the info you see is the latest in advance.
Information
Shop Name
Auberge de Meissen and Restaurant Meissen
Address
1320-653 Gōra, Hakone-machi, Ashigarashimo-gun, Kanagawa-ken 250-0408, Japan
Contact
+81-460-83-8131
Reservation
Reservation needed
Homepage
http://www.hakone-meissen.com/(Art Gallery Homepage)
Email
ank.meissen@gmail.com
Getting There
By train via Hakone Tozan Line go to Gōra Station and then walk approximately 12 minutes
Parking lot
Available
Trailer bus 30 spaces
Closed Day
Open throughout the year
Genre
Italian food
Languages available
English
Free Wi-Fi
N/A
Credit card
N/A
* Please make sure the info you see is the latest in advance.