On the last weekend of 2015, I had my first ever mochitsuki experience!
Mochitsuki is a Japanese tradition to pound mochigome (glutinous rice) into mochi (rice cakes). It was a truly local tradition, and as a foreigner I was honoured to be invited to try it.
Firstly, let me summarise the process.
1) Glutinous rice is soaked overnight and cooked.
2) The rice is pounded with a wooden mallet in a mortar. This step is done by two people. One pounds the rice and the other turns and wets the rice.
3) The pounded sticky paste is molded into various shapes. They can be eaten or made into Kagami mochi.
And here's the quick run-through of the process with photos.
The rice was scooped into steam baskets.
The steam baskets are stacked and cooked on charcoal fire.
The pounding commenced.
The mochi paste was then made mixed with various paste. This particular family mixed the mochi with radish paste (karami mochi), roasted soybean flour (kinako mochi), edamame paste (zunda mochi), and chestnut paste (original recipe).
Another batch of drier mochi was made into kagami mochi (mirror rice cake), meant to be preserved longer.
So what exactly was a kagami mochi? Before we go into kagami mochi, let's talk about okazari first.
At the start of each year, households or companies would hang an okazari (decoration) at either the door or entryway to welcome God.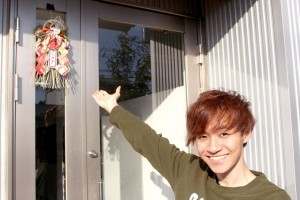 Then, they would place a kagami mochi at an altar or alcove. This was to allow God to reside in it. In a kagami mochi, a small mochi was placed on top of a bigger mochi, symbolising "fortune upon fortune" and "good years upon good years". A daidai (Japanese bitter orange) was placed on top of a Kagami mochi. It was a good luck charm that symbolises longevity and prosperity as daidai could also be written as "代々" in Japanese, which meant "generations".
Final thoughts: The mochi were really delicious. I wish I could have more. My favourite was the zunda mochi. Apparently, many young Japanese today had never done mochitsuki before. This was a pity. This was how traditions tend to be discontinued and forgotten. I shall do my best to write more of such articles to inform everyone about such traditions to keep them alive.
By Desheng.