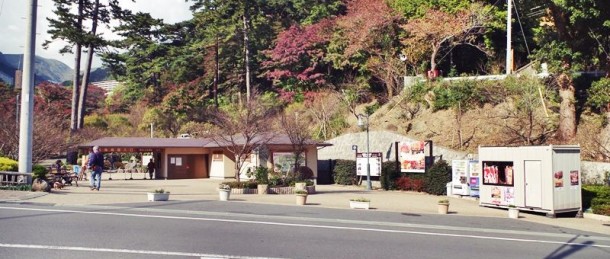 Red Leaf Festival in Atami Baien
Every year in mid-November, red leaves in Japan reach its peak season. Many sightseeing spots in Japan offer red leaf tours and events in this season.
The most amazing red leaf landscape goes to Kyoto. However tourists come to Japan in this season can travel many places that display beautiful red leaf scenes. Many great sites are located in Kanto Area.
Atami Baien (Plum Garden) are famous mainly due to its beautiful plum blossoms in Sping, but it is also a well-known place for red leaf viewing.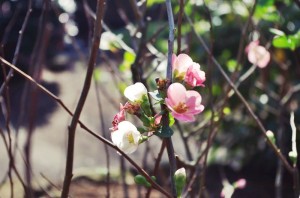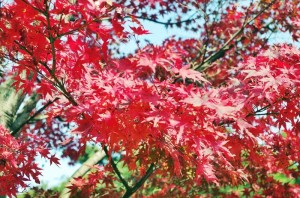 Early in the morning, I took a train to Atami Station and transit to Ito Line to reach Miyashita. After climbing a long slop, I walked for about more than 10 minutes finally arrived at Atami Baien.
The entrance was in very modest design that was out of my expectation, there were many tourists even on weekdays.
I entered the plum garden, but only to found there were green colors all over the place. I doubt if I had entered the wrong place, but the Red Leaf Advertising Board at the entrance was indicating this is a red leaf location. I decided to go further.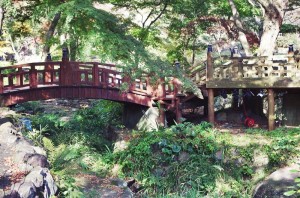 A red bridge with a red leaf back ground with a strong touch of Japanese style. My disappointment seems relieved a bit thanks to this beautiful scene.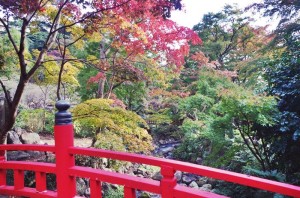 It is probably because there is more rain and the sunlights are insufficient this year, tree leaves in Atami Baien turn red slower than previous years. Many trees are till in green color.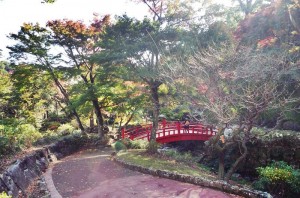 Umemi-no-Taki Waterfall.


My disappointment of not be able to see red leaves was finally relieved by the beautiful trees and sky of the plum garden.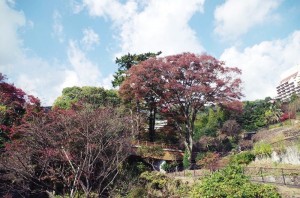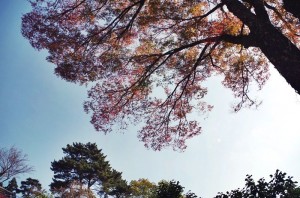 Sawada Seiko Memorial Museum.
After some hesitations, I entered the museum.
Sawada Seiko had devoted his whole life to his beloved arts, many of his works were finished in his eighties and nineties. He is doubtlessly a person of respect. I hope myself can find goals in my life and work hard to achieve it.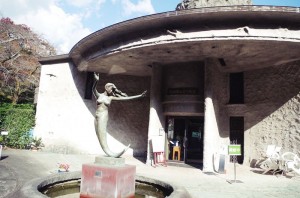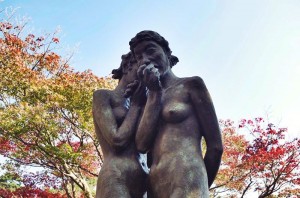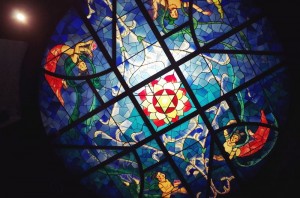 I found a tree outside Korean Garden that has turned crimson. What a beautiful surprise for me!


The plum trees in the garden were still not blossoming, I assume there will be another two months for flowering. After plum blossom ended, there will be cherry blossoms.
There are many great things in life, we just have to wait patiently.
Information
Name
Red Leaf Festival in Atami Baien
Address
Atami Baien (8-11, Baien-cho, Atami)
Period
Nov 15 (Sat) to Dec 7 (Sun) of 2014
Business hours
–
Fee
 * Free
Getting there
Take a train of Ito Line from Atami Station, get off at Kinomiya Station and walk for 10 minutes.
Take a bus for Baien & Ainohara from Atami Station for approx. 15 minutes, get off at Baien bus stop.
Parking lot
Place opposite to Baien: entrance of the parking lot is located in front of Tanna Shrine alongside the road. (9:00 to 17:00)
Toilet
Available
Contact
Atami Tourism Association Tel. 0557-85-2222
Website
http://www.ataminews.gr.jp/momiji/
* Please refer to the latest info before visiting place.