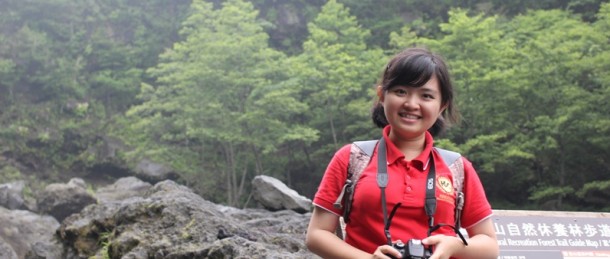 Do you think about Japan when you hear the words "Mount Fuji"? This summer, I joined a tour program sponsored by Mikuriya-no-Tabi and for trekking at Mount Fuji. The tour name is : Enjoy Mount Fuji and the Woods with your Senses Trekking Course (Fuji-san wo Gokann de Tanoshimu Shinrinyoku Trekking).
Trekking Preparation
Before starting the adventure, we need a proper preparation! I rented a climbing shoes from Sora no Shita, an outdoor equipment rental shop. (The brown shoes on the left is my friend shoes and the right picture is me with orange shoes.)
From July to early September you can rent and return trekking or mountain climbing equipment at their branch stores at : Kawaguchi Lake Station store, Fuji Yoshida branch store, Mount Fuji Subashiri-guchi Go-gou-me store, and Mount Fuji Fuji-no-miya-guchi Go-gou-me store. As long you are in Japan, they will ship the equipments you need to your house or hotel you are staying. Besides from mountain climbing, they also rent another outdoor activities equipment such as camping and BBQ tools, very convenient!
Outdoor Rental – Sora no Shita
TEL : 0555-73-8850
Website : http://www.soranoshita.net/
Trekking Start!
We start our tour in front of Gotenba station and by bus we head to Mount Fuji Gotenba-guchi Shin Go-gou-me. The climbing area from Gotenba-guchi Shin Go-gou-me area mainly sand and not usual soil. This is because Mount Fuji erupted long time ago, the lava and scoria made the are around here sandy compared to other area. Making it more challenging than normal trekking!
I don't have any trekking or mountain climbing before so started from Go-gou-me as the first time perfectly fit me. Our starting point Gotenba-guchi Go-gou-me is 1,440 m above sea level. From that point, you can see not only the majestic scenery of Mount Fuji, but also Mount Futago and Mount Hoei. 
Although the weather when I went for trekking was bright at first, as we proceed to climb the mountain, its getting more and more cloudy. Sometimes it will suddenly clear but suddenly we were covered in fog. Therefore, I am sorry because my picture is cloudy and misty.
Our Tour Checkpoints
There were 3 main places we visited in this trekking program. Futatsuzuka Shitazuka, Makuiwa, and Suyama Otainai.
The first place is at Futasuzuka Shitasuzuka (lower part of Futago Mountain). We reached there after approximately 1 hour climbing from our starting point at Gotenba-guchi. There is a monument over here for the famous Japanese gods, Izanagi and Izanami.
We continued to Yotsuji to take a break. At there, we opened our bento boxes that were given before we started trekking. Delicious bento made from Gotenba local ingredients. Yotsuji area's slope is not to steep and also it is an intersection for climbers who are heading for Fuji-no-Miya area.When we were there, other tour group also rest at this area, then some mountain climbers crossed over, and there were group of elementary students came for field trip. Because Mount Fuji are only open in summer (too cold and dangerous to climb in other season), I think everyone want to enjoy the best of Mount Fuji as soon as possible!
After we finished our bento, we felt our body re-energized from the exhaustion and ready to continue the tour! We started to get in the forest part and the path is easier to go through than the first sandy part. Our tour guide explained about plantation around there too. About leaves that is called hotaru-bukuro (fireflies-pocket) because it was used to put fireflies when children caught it, and many new knowledge for us about trees, flowers, and plants around Mount Fuji forest.
After get down some extreme slope area, we reached Makuiwa. Makuiwa was made from the pile of lava and scoria stream when Mount Fuji errupted. I think the view of rock cliff covered by many trees over there was very pretty. 
From Makuiwa we continued walking past the Japanese beech (Fagus crenata) and Himeshara (Stewartia monadelpha) for around 1 hour. Then we arrived at our last place in this program, Suyama Otainai. There is a hole over there and it was big enough to go inside if you bend over. Inside the hole, there is a shintai (object of worship in Shinto). The legend says that a princess named Konohana Sakuya was pregnant in one day and give birth to her baby inside of the hole. That's why the statue in this place is believed as a symbol of easy childbirth.
After Trekking
We ended our trekking course at Suyama Otainai Entrance (around 40 minutes walking from Suyama Otainai). Everyone get on the bus and head for the onsen to relax our body after the trekking. I need to come home ealier so I couldn't go to the onsen and get down near the Gotenba station to go home.
It was a very tiring experience (especially because I kinda lack of physical strength). Even so, I had a new experience, learned many new things about vegetation around Mount Fuji and also the legend surrounding it, and even though its a bit cloudy, I saw many beautiful scenery. I am glad I was given chance to go for this trekking tour! For the next chance I will prepare my strength thoroughly and try to challenge myself until Mount Fuji top! Wish me luck! 
You should challenge yourself climbing mount Fuji if you come to Japan in summer too!
Lastly, I got this pretty Mount Fuji Cloud Series pin as a souvenir. Only 1,000 JPY for 4 cute pins!
Thank you for reading this article ♥
You can also read the blog from Mikuriya no Tabi about our trekking tour by clicking here.
-Vivi-
Information
Event Name
Enjoy Mount Fuji and the Woods with your Senses ♪ Trekking Course Scenery from 1,800 m height (Fuji-san wo Gokann de Tanoshimu Shinrinyoku Trekking ♪ to 1,800 m kara no Keikan)
Location
Gotenba Go-gou-me Entrance ~ Suyama Otainai Entrance
Event Period
For detailed information please refer to the website
Admission Fee
5,980 JPY per person
Contact
Gotenba Sōgō Service Company – Mikuriya no Tabi
TEL : 0550-88-5771
FAX : 0550-88-5773
Website
http://fujisan-mikuriyanotabi.jp/recommend/1824856.html
※ Please make sure the info you see is the latest in advance.