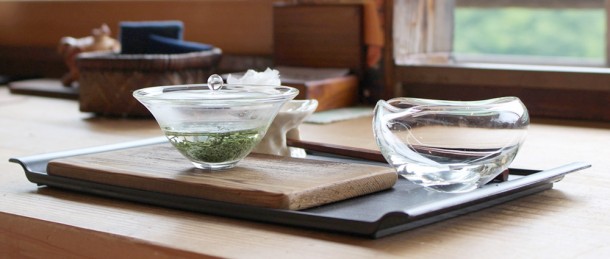 Naraya Cafe – Susuri Tea Experience
Naraya Cafe, beautiful cafe near Miya-no-Shita station at Hakone. With the fresh nature and Hakone mountains view, enjoy your time over here, eating cakes, chatting with your friends, while relaxing your feet with the footbath.
Naraya Cafe
Naraya Cafe is a perfect place for you who wants to rest from all the big city hype. With calm nature and friendly shop attendants will welcome you to enjoy your time over here leisurely. It is an unique cafe because you can do other activities here besides enjoying a cup of tea or coffe. There is a foobath over there, you can enjoy your drink while relaxing your foot.
The whole building is divided into four parts. Naraya Cafe, Naraya shop (Naraya-an), foot bath, and gallery. The display works at gallery and goods at Naraya shop always changed. For this month, June 2015, the theme is : Rain Water. According to Japan season, right now is tsuyu, the interval between Spring and Summer and it is often raining.
At the gallery, you can read some books and order drinks from the cafe. They are showing animals wood block print by Tomomi Hokinuma. There are also postcards with various animals painting on it for 150 JPY. For shops, they are selling porcelain, cloth, felt, candles, and many wood crafts. (Please click here to see the previous gallery display.)
Sometimes there are also events or workshop held at this cafe. For this time I was lucky to have a Susuri Tea making experience. The workshop are held in 7th, 8th, 21st, and 22nd June. This kind of workshop is not usually held, so you need to check out their website to see what event are or will be held over there when you are planning to visit.
Susuri Tea Making
Susuri Tea or Susuri Cha is a way to drink tea delicately by changing the water heat little by little so you can really taste the tea flavor. By the way, susuri means to sip in Japanese. In this workshop, you will try to make your tea with low heat water to let the tea leaves "bloom".
First of all, we will be given 2 glass container. One is where you put the tea leaves and the other one is for the hot water. We start the workshop by eating the dry tea leaves to feel how it tastes. Well, it tastes dry and like tea, hahaha.
Next, pour hot water on the empty glass container. We were asked to wait for 2 minutes for the hot water to cool down a little. For the first sip, the water temperature should be around 40°C (104 Fahrenheit) to get the original taste of the tea. We waited a little while listening our instructor, Yuri-san giving explanation. Then, it is the time to sip the tea! It had a nice smell, but what caught my attention is, it was one of the most delicious tea I ever drank! 😀 It was "sweet" but not sugar sweet, in Japan language it is umami kind of sweet.
Moving to the next step, it was same thing with the first step. The difference is this time we only wait 1 minute for the hot water to cool down. It should be around 50°C (122 Fahrenheit) for the second time. This time the tea gets a little bitter but it was still delicious!
After first and second step, now you can pour the tea leaves as much as you like. For the third and later, the water heat is around 60°C (140 Fahrenheit). There is also sweets provided to eat with the tea. I ate it when I made my third tea pour because this time the tea already lost the umami and taste rather bitter like usual tea. So it was best to eat the sweets at your third or fourth time pouring hot water.  
Susuri Tea Extra
After you drink all the remaining tea, add little salt on the tea leaves and you can eat it! Besides salt, you can also add ponzu (citrus based sauce) to your tea leaves. As you can see on the picture below, the ponzu container looks like mini elephant, very cute!
Actually, drinking and eating the delicious tea leaves will actually complete the workshop. But, if you add 500 JPY and you can also taste high-quality Japanese sake and the tea leaves will served as the snack!  Eating tea leaves as snack will also help so you don't get dizzy or drunk from the alcohol. This is a new experience for me, I have never eat tea leaves like this before. I highly recommend it!  ♥
Our instructor Yuri-san also make a blog at http://unsuitamio.blog.shinobi.jp/ make sure to check it out too!
Please come to Naraya Cafe when you travel to Hakone, Japan (❛ᴗ❛) Thank you for reading this article.
-Vivi-
Information
| Title | Naraya Cafe – Susuri Tea Experience |
| --- | --- |
| Place | Naraya Cafe |
| Address | Kanagawa Prefecture, Ashigarashimo-gun, Hakone, Miya no Shita 404-13 |
| Event Period | Susuri Tea : 7th, 8th, 21st, and 22nd June 2015 (this is an irregular event) |
| Admission Fee | For Susuri Tea : 500 JPY and For Susuri Tea + Japanese sake : 1,000 JPY |
| Contact | 0460-82-1259 |
| Getting there | From Miya no Shita station, 1 minute walking |
| Website | http://naraya-cafe.com/ |
※ Please make sure the info you see is the latest in advance.