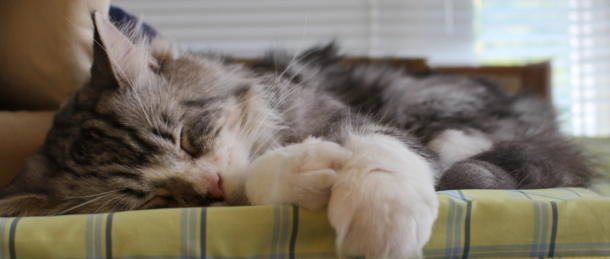 The Cat Museum, located in the Izu Kogen area was established as a place to broaden knowledge about cats scientifically while playing with them. On the first floor, there are exhibitions about origin and history of cats and zone about cats as characters of fairy tales and as an object of art works. On the second floor, you can see real cats' exhibition.
At first, I was watching the exhibition called 'World of the wild cats'. Generally speaking, we associate cats with our domestic pets. In fact, there are 38 species of cats in the world. Exhibition includes 28 species of cats, from tiger, that is the biggest one, to small-spotted cat, that is the smallest respresentant of cats.
Next, I came to watch 'Extinct species of cats' exhibition, that presented cats' ancestors. The biggest one, called 'cape lion' seemed to be very big and scary animal. When you see this one, it's really hard to believe, that cape lion and usual, domestic, small cat belong to the same family.
Actually, cats have been influencing on culture and art from the old times. In the 'Art gallery of cats' zone, you can watch popular, iconic images of cats. Moreover, there were many art works and handicrafts focused on cat's theme.
In fact, all the visitors come to The Cat Museum to see 'Kitties of the world' exhibition', placed on the second floor. I like to observe specific moves and behaviour of cats and I really enjoyed it as well. Exhibition presents about 40 cats of 20 various species, including abyssinian cat, munchkin cat, manx cat, russian blue and ocicat. Unfortunately, most of the cats were closed in cages. I could see them from the outside, but it was really hard to take a good picture. However, some cages were opened and cats came outside to visitors, who could come into contact with them by playing and petting. But to be honest, cats were probably too tired of visitors and they were too sleepy for playing anywise.
Summary
Originators of the musem looked at the phenomenon of cat from many, various points of view. Except of broadening knowledge about cats on many fields, you can see there a lot of species of cats on real. Museum is very attractive for children, who are probably tired of watching boring paintings in usual museums. I think, that it's really great way to turn children on to science and biology by watching all the exhibitions.
Weronika Golubska
Information
Name
The Cat Museum
Location
7-600 Omuro-Kogen Ito City
Contact
0557-51-5133
Price
Adults: 1300 yen
Middle school's students: 1000 yen
Primary school's students: 700 yen
Children: free
Opening hours
9:00-17.00
Access
From Izu-Kogen station take the bus bound for Shaboten Park and get off at the 'Omuro Kogen 7 Chome'
Homepage
http://nekohaku.pandora.nu/
*Please check for the latest information before visiting.
* This article was written by a trainee from overseas. Please note that there might be spelling and grammar mistakes.