Hatsumode (First shrine visit of New Year) at Saijoji Temple
Hatsumode is a custom of Japan that people visiting shrines or temples at the beginning of each year paying their respects to the god for the god bless of last year and to praying peace and happiness of new year.
The spectacular scenes of enormous people gathering at shrines and temples all over Japan is to be aired on Japan's public broadcasting system, NHK from the night of December 31th to the morning of January 1st every year.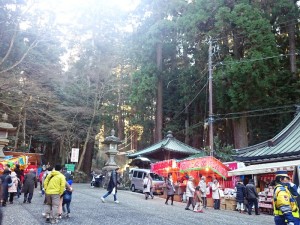 Hatsumode can be performed either at a shrine or a temple. Although there is basically no time limit for a Hatumode, but since it is considered the first visit of new year, people tends to perform Hatsumode at the very beginning of new year. There is also no limit on how many shrines or temples you can visit by Hatsumode, people living in the Kansai Area, the western part of Japan usually visits multiple shrines or temples during the first three days of the new year.
I used to think that Hatsumode must be performed at the daybreak or the morning of January 1st. However it is not correct. For this year, I performed my Hatsumode with my friend on January 3rd which is not the first day of the new year, but since it is the first visit to the shrine of this year so it can be called Hatsumode.
Older people tend to perform Hatsumode regularly each year compare to young people who doesn't pay much attention to Hatsumode, either never visit the shrine or tend to having a party or enjoying shopping after Hatsumode.
There are many well-known shrines and temples in Japan such as Meiji Jingu Shrine, Tsurugaoka Hachimangu Shrine, etc. These places usually become very crowded, people have to wait in lone lines during the season of Hatsumode.
We visit a temple in our local area which is called Saijoji Temple located at Mt. Daiyuzan. Most people who living in Odawara City visits Mt. Daiyuzan for Hatsumode. We took a bus to the entrance of the area, there was many stall vendors selling unique Japanese snack food which attracted many people. Although it is already third day of January, the street is still filled with people who came here for Hatsumode.
We climbed slowly toward the main entrance of the temple via a large slope and a long flight of stairs. The road was a little slippery due to the snow, we past the main gate and climbed up another long stone steps. My friends felt exhausted by climbing the steps swore that she will never come again.
After burning our first incense, the smoke hang over us, we prayed for good health and mind wisdom.
We also went to a shrine later. The rule of praying in a shrine is to bow your head twice then clap your hands twice followed by another bow. Please also read an article I wrote about how to pray in Japanese shrine.
The most famous spot of Saijoji Temple is a large Geta (Japanese wood shoes) located next to Goshinden Building of the temple. Geta is a kind of traditional Japanese footwear. A large Geta is composed with two Getas, one on the left and another one on the right to form a pair, which symbolized the harmonies between husband and wife. Many Getas here were donated by private companies in praying for the thrive of their business.
Me and my friend each drew a fortune slip. I drew a "good luck" which is sounds convincing to me. It tells me that I need to "make more efforts" in 2015. My friend drew a "slightly good luck" which is not so bad but she tied it to the bamboo rack anyway. Japanese people believe that if you drew a fortune slip that is not a good sign, you can tie it to a rack in the shrine to get rid of the bad luck.
We ate some tasty traditional Japanese food on our way home.
Information
Name
Saijyoji Temple in Mt. Daiyuzan
Address
1157 Daiyu-cho, Minamiashigara, Kanagawa
Closed
Open throughout the year
Business hours
–
Fee
–
Getting there
Odawara Station -> Daiyuzan Station (21 minutes via Dayuzan Line)

Daiyuzan Station -> Doryoson (10 minutes by bus)

Parking lot
250 spaces
Toilet
Available
Contact
0465-(74)-3121, 3122, 3123 (switchboard)
Website
http://www.daiyuuzan.or.jp/index.html
* Please refer to the latest info before visiting the place.