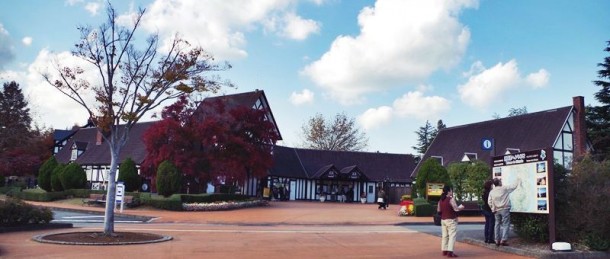 We are preparing a red leaf special edition, my friend recommend me to visit Niji No Sato, so I decide to have a look, turns out it is a beautiful red leaf location.
Niji No Sato is very big, it is composed of many sections such as British Village, Izu Village, Takumi Village, Japanese Garden, Fairy Garden and of Canadian Village, etc. Seasonal flowers can be enjoyed throughout the year.
However today I am going to watch beautiful red leaves. In this season, the redness of the leaves in Niji No Sato is just perfect.
Crimson color at the entrance is so beautiful!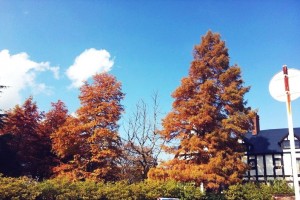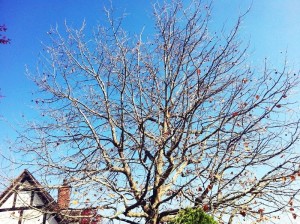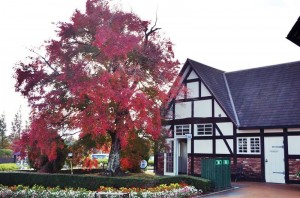 There are no red leaves in the garden, but a lot of little bears. The whole town is full of British tyle, like a world of fairy tale.
The map shows we are now in British Village.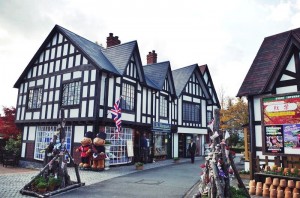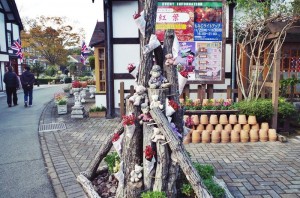 British Village is full of British style decorations.


I walked more ahead, there is a toy store sells many small objects to the tourists.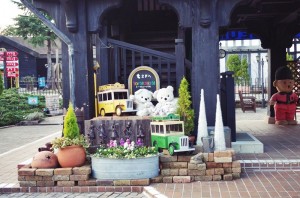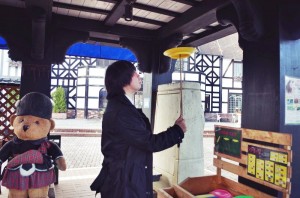 On the second floor, there are many western style toys, various types of little bears were place near the stairway. These bears are so cute.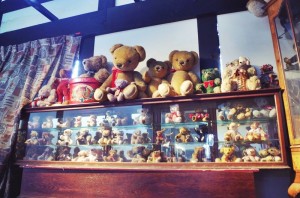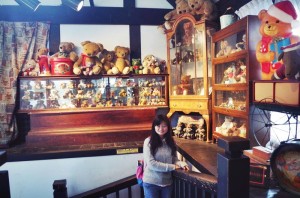 After touring around in the garden, I found a place where the red leaves are stunningly beautiful.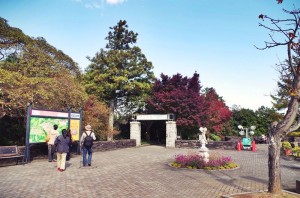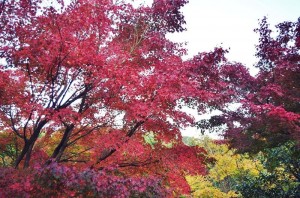 Passing through the thick greenway, I felt like to travel from Britain to Japan. The landscapes changed completely from here. I felt like entered the wonderland of Alice's dream.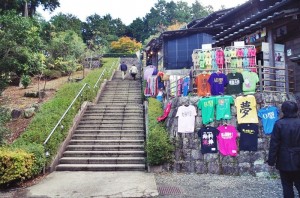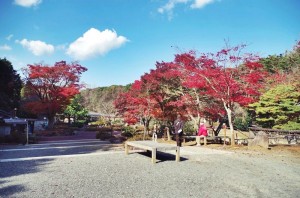 In this Japanese small town, there are beautiful red leaves.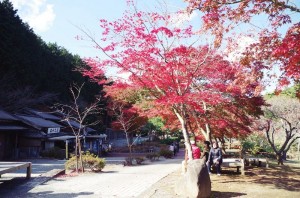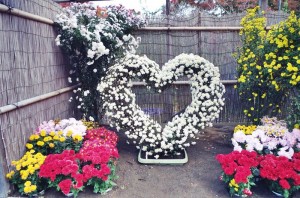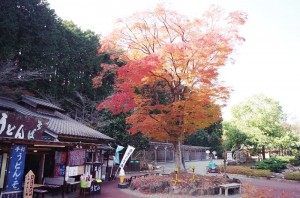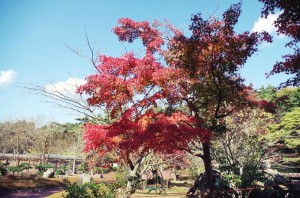 I was pleased by the beautiful scene. Such large scale garden full of red leaves is rare in Japan which is a small country.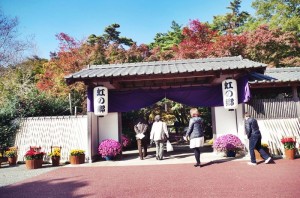 Niji No Sato is a real destination for red leaves viewing. 360 degrees without dead angles.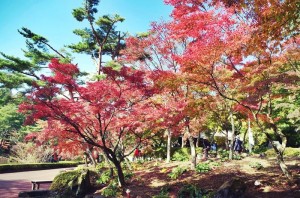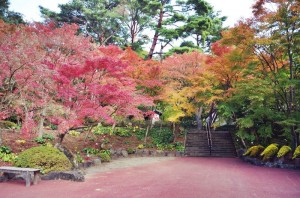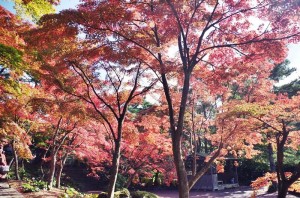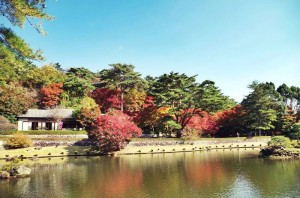 The garden is so large, we went to the Canadian Village. There are many dried flower beds without any flowers. But for Autumn, red leaves are the best.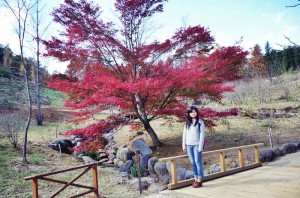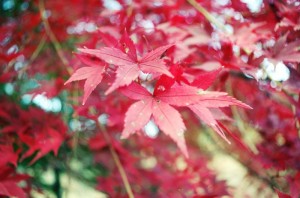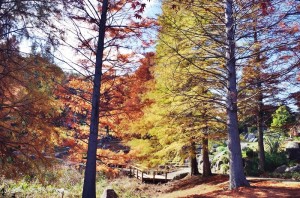 I was completely stunned by the beauty of the nature. Some says that God mistakenly tipped over his color palette at Biei of Hokkaido, I think maybe some colors had been splashed here too.
I always felt life is so great at such situations.
I am having the lucky to encounter these beautiful sceneries.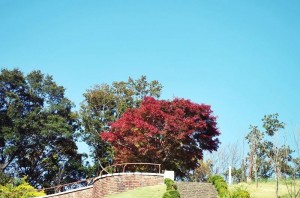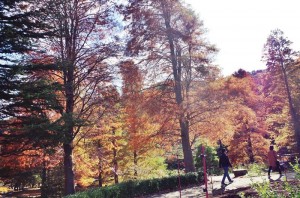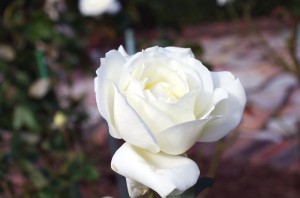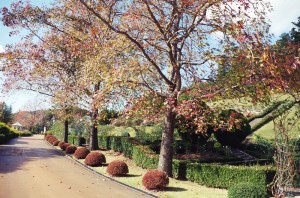 There is a cartoon little train running through Canadian Village which can be boarded. Whirring along, smokes popped out from the top of the train.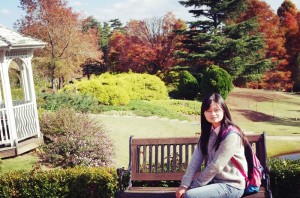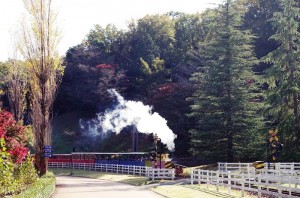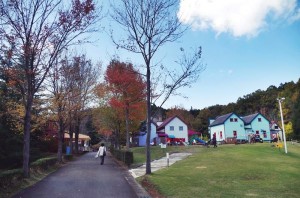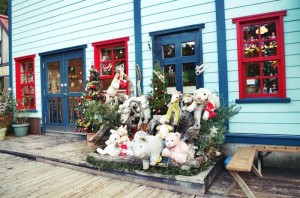 We walked toward a direction, found a road with beautiful landscapes.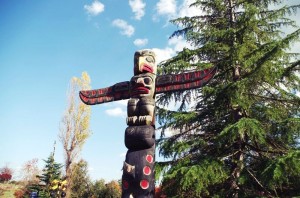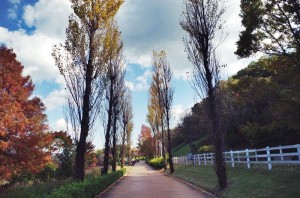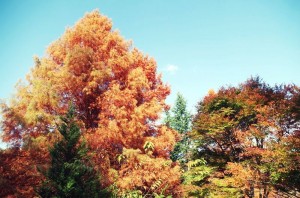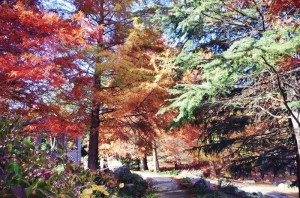 The power of nature has created so vivid colors for the land.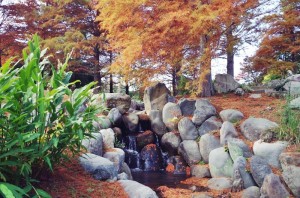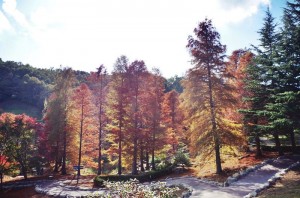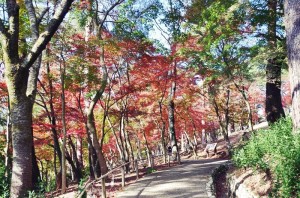 To me, Japan is the nature mother's favorite child.
And life is so kind to me.
Information
Name
Niji No Sato
Address
4279-3, Shuzenji, Izu, Shizuoka
Closed
Tuesday
Business hours
9 am to 5 pm during April to September
9 am to 4 pm during October to March
Fee
 Adult: 1,200 yen (taxes included)
Child (age 4 to elementary school students): 600 yen (taxes included)
Getting there
Take a train of Izu-Hakone-Tetsudo Line from JR Mishima Station for approx. 30 minutes, get off at Shuzenji Station.
Take a Tokai bus at Shuzenji Station (for Niji No Sato via Route 6) for approx. 20 minutes to reach Niji No Sato.
Ferry: Take a Ferry of Suruga Bay from Shimizu Port to Toi Port for approx. 1 hour. Drive via Route 141 takes approx. 40 minutes.
Parking lot
Normal sized car 300 yen (taxes included)
Toilet
Available
Contact
Tel. 0558-72-7111
Website
http://www.nijinosato.com/index.html
* Please refer to the latest info before visiting place.