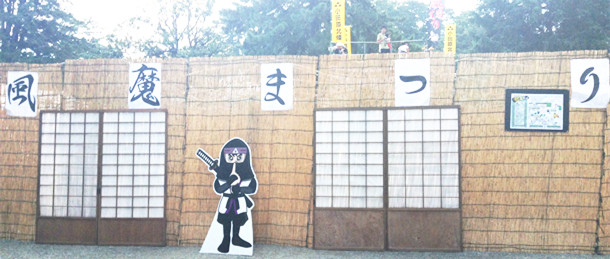 A large gathering of most talented Ninja!
The Fuma Ninja was a Ninja clan that served under Hojo tribe, a feudal lord of Odawara in Sengoku period. The chief of Fuma Nija was called Fuma Kotaro over generations, the most outstanding Kotaro Ninja of the clan was the one in its fifth generation who had so far became a famous figure in Japanese comics and games.
The Fuma festival is designated to expand the culture of Fuma Ninja clan.
The stage shows started at 1 pm. It kicked off with a performance of Taiko (a traditional drum of Japan).
Taiko performance always plays an important role in traditional festivals in Japan.
Today's performance was led by a team called Shu, which perform Taiko in unique style. The members of the team had been practicing Taiko frequently with passions while they all have their own jobs.
It is said that you can express the strengths of wind as well as the flow of river by making subtle changes of the sound and rhythm of the drumbeat. How wonderful is that!
The next performance was Tate-Enbu. This is the man everybody had been waiting for! Mr. Masashi Goda, a professional actor who also serves as a sightseeing ambassador of Odawara. Mr. Gota played the role of Fuma Kotaro during the performance of Tate-Enbu. He is so cool!
Here comes the villain of the show. A legendary Ninja called Hanzo Hattori! He is with his two servants.
Oh! No! A servant of Kotaro was half murdered by Hanzo! (/゚Д゚)/
Kotaro comes to rescue! As I expected, Kotaro defeated Hanzo without any problems. Soooo cool!
This marked the end of the Enbu performance. Mr. Gota left the stage while Ninja started to instruct the children with techniques of Tate.
I made a tour around the campus of the festival during the break.
There were various entertainment segments such as Shuriken (throwing knife), Fukiya (blowgun dart) and archery, as well as hands-on classes of Shuriken and Ninja labyrinth. You can even ride a horse!
I tried Syuriken and archery. It was difficult than I thought! (.•˘_˘•.)
When I returned, there were many Ninjas on stage performing Ninja Enbu (a dance of Ninja). It was rather a comical one compare to the previous show. The techniques performed by Ninja was just amazing! o(>ω<)o
There is more to enjoy! You can rental Ninja costumes right in the campus! That why I had seem so many children who wore Ninja cloths here.
Finally I took few pictures with the Ninjya (๑¯ิε¯ิ๑)
By the way, female Ninja is called Kunoichi.
Information
Event name
Fuma Ninja Festival in Odawara
Place
Ninomaru-hiroba and other places of Odawara-Joshi Park
Address
Jonai, Odawara City, Kanagawa
Date and time
Saturday, Aug. 30, and Sunday, Aug 31 of 2014. (Cancel in case of rain)
Admission Fee
Free to enter
Contact
Odawara Tourism Association TEL: 0465-22-5002
Getting there
By train 10 minutes walk from Odawara Station.
By car It is approximately 40 minutes from approximately five minutes, Tomei Expressway "Ooi Matsuda IC" from approximately ten minutes, Saisho bypass "Odawara IC" from Odawara-Atsugi Expressway "Ogikubo IC"
Website
http://www.odawara-kankou.com/
※ Please make sure the info you see is the latest in advance.