Odawara Lacquerware Workshop @ Okawa Woodworking Plant
Ever heard of Odawara lacquerware? It is a Japanese traditional craft which accentuate the natural beauty of wood in crockery, using techniques handed down over 300 years. There are only around 70 practicing craftsmen left, and today I visited a workshop conducted by one of them, Mr. Okawa Hajime.
I was the only person visiting the Okawa Woodworking Plant that day, so I had the full attention of Mr. Okawa.
The workshop involved only one stage of the whole production process, which was "design", by scraping a coloured lacquer layer off an already lacquer-coated bowl or plate.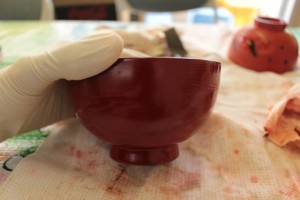 This was the bowl I picked. A light brown wooden bowl coated with a layer of black lacquer followed by a layer of red. The task was to design it by scraping off the outer red layer to reveal the inner black layer in whatever patterns one desired.
Said scraping was done by a waterproof sandpaper. It had to be dipped in water regularly while scraping the bowl.
I got down to work immediately. I couldn't think of a design, so I decided to write a name instead. Originality!
It could have been really nice if I could write these words like calligraphy, but unfortunately, the scraping wasn't easy at all. It took me close to two hours to get four words written.
It felt like a perfectly good lacquer bowl was wasted on me…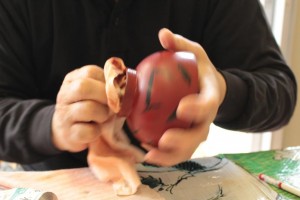 And the last step was to coat the exposed bowl with a layer of invisible lacquer.
After all was said and done, Mr. Okawa took me to his shop to show me the lacquerware made by him and his disciple.
Don't they just look gorgeous? The beautiful natural lines, the shiny gloss, and the Japanese vibes they exude.
Mr. Okawa was kind enough to take me to his workshop to show me a live demonstration of woodcarving. Having an opportunity to watch a master craftsman in action, now that's some precious experience.
One word : professional.
This concludes the report. Those interested in trying your hand at a Japanese craft, do give Mr. Okawa's workshop a try. You get to bring home a bowl or plate with your very own design on it. Nothing better than that for a gift to a loved one, in my humble opinion.
By Desheng.
Information
| Name | Okawa Woodworking Plant |
| --- | --- |
| Location | 〒250-0035 Kanagawa-ken, Odawara-shi, Minamiitabashi, 2 Chome−224 Okawa Woodworking Plant |
| Contact | 0465-22-4630 |
| Price | 2500 yen (might cost more depending on item) |
| Homepage | http://okawa-mokkoujo.com/experience/index.html |
*Please check for the latest information before visiting.
* This article was written by a trainee from overseas. Please note that there might be spelling and grammar mistakes.