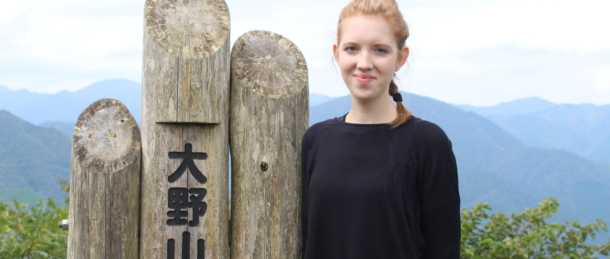 Yamakita Town is located in Ashigarakami District in western Kanagawa. Town is quite small ant not very popular among tourists, but in surroundings on the town, there are many hiking routes. So, if you like hiking, you should check tourist offer of this area. This time, I decided to go on 'Around Mt. Ono Course', that takes approximately 3 houres.
At first, I was walking by 20 minutes to get from the Yamakita Station to the hiking route. You can get there by bus, but courses are very rare and I would have to wait about 3 houres for the earliest one. When I got off the train, I couldn't see any road-signs, but fortunately, thanks to the local people advices, I got to the proper route. Actually, there are two available routes to the Mt. Ono. I chose the route near Kyowa Primary School, that supposed to be the clearest one. I can say from my own experience, that usually hiking courses start from forests, but in this case, first part of the route goes on asphalt, through the community of small houses. But it doesn't mean, that route was easy and effortless. In fact, it went higher and higher with every step!
After one hour of hiking, I came into the danse forest. From there, route went through the narrow valley and became much stepper. Walking through a silent and calm forest is always big pleasure for me, and in spite of hard and tiring climbing, I enjoyed it so much! What especially attracted my attention, was large number of wasp spiders on the route. It's really easy to recognize them, because of characteristic pattern, that seems tiger's stripes. I don't feel fear of spiders and every time I see an interesting one, I like to stop and watch it for a moment. Luckily for me, when I was hiking, except of many spiders, I saw herd of gazelles! Suddenly I heared a sound of breaking branches and when I had turned to it, I saw them running away. After running some meters, they suddenly stopped and started to stare at me very suspiciously. I didn't want to scare them and had been watching them without moving. I really wanted to take a picture, but unfortunately, they were too far from me… Although, I was really excited of meeting such a great herd of gezelles! After 50 minutes of hiking, I started to come up long wooden stairs, which seemed to be never-ending stairs! In general, the best views are watched from the tops of mountains, but in case of Mt. Ono, the most impressive vending spots are placed along the last part of the route. When I finally got on the top, I felt really tired but self-satisfied and fully happy. Getting on the top is actually the best part of hiking because of consciousness, that you made really great effort to get on and you managed to do it by youself, in spite of many moments, when you just wanted to give up and go down. When I was comig down, after having some rest, I was watching completly different lanscapes then during coming up, because the further route was on the opposite site of mountain. When I looked down, I could admire amazing lanscape of Yamakita town.
Summary
'Around Mt. Ono hiking course' is quite short and easy route. Except of people, who like hiking, I reccomend it for people who are bored by visits in museums and want to spend some time in nature sites. Don't forget to take on hiking shoes, because the route is full of breaking braches. Also, there are no shops or shelters on the route, then remember to take a bottle of water and some snacks. Ready? Let's go then!
Weronika Golubska
Information
*Please check for the latest information before visiting.

* This article was written by a trainee from overseas. Please note that there might be spelling and grammar mistakes.