After left Mishima Station, Rakujuen is located right across the road. Rakujuen is now preparing a Chrysanthemum exhibition for October, many flowers displayed outside the park had been changed to Chrysanthemum. Chrysanthemum in various colors, many different shapes, looked dazzling.

I encountered a Japanese man at Yamanaka Castle ruins, we together made a visit to Rakujyuen. We paid the admission, entered the park slowly.
It was near dusk, temperature dropped and I felt a bit chilly. As soon as I entered the park, I was overwhelmed by the colors and different types of the Chrysanthemum, it was so amazing! I never know Chrysanthemum could be in so many colors and shapes, all the bosai of Chrysanthemum here was meticulously hand-arranged by gardeners, every pot looks stunningly beautiful. Beside many carefully made pots of Chrysanthemum laid on the floor, there were also many special design objects using such as a small train, a rooftop, and Rakujuen's Kyoto Yasaka Tower all ornamented using Chrysanthemum.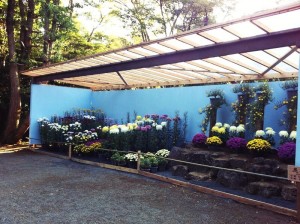 Bathed in the sunlight of dusk, Rakujuen with Chrysanthemum was so beautiful in October. Staffs in the park was busy in preparing the opening of tomorrow, there was not so much tourist in the park.


Beside Chrysanthemum, the park also have some small animals. Of course the number of the animal is small when comparing to a zoo. I also met some cute Alpacas here. A description board told me that Alpacas are very timid, they will spot and fart toward enemies when got frightened, which is hilarious to me. But it also make me more like this animal.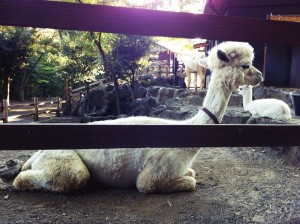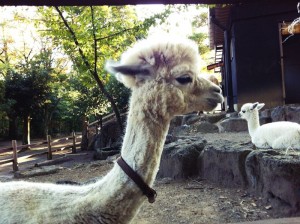 Waling further to the inner side, I saw a mirror house with mirrors all over the place, either inside and outside the house. These mirrors were very funny, reflect your body parts in weird ways such as stretching, thinning, making your legs looks longer, etc. We took many funny photos here and laughed a lot. However the favorite one of us nevertheless goes to the one that can make you look thinner. I wish I can be that slim even without the mirror!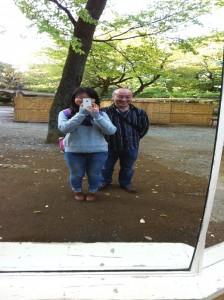 I took a quick tour around the rest part of the garden. There were dried ponds without any water which I think is a fly in the ointment to the garden. If the ponds were full of clear water which will make the scenery a more pleasant one.


This day have been a lucky day for me, the photos taken in the garden looked perfect. I met a stranger in the garden and we became friend instantly after the tour. With a friend around, the trip had became a perfect one for me.
A beautiful day, a day to be remembered.
Information
Name
Rakujuen
Address
19-3, Ichiban-cho, Mishima, Shizuoka
Closed
Monday
Business hours
9:00 – 17:00 (April 1st – Oct 31th) 9:00 – 16:30 (Nov 1st – March 31th)
Fee
300 yen for adult (over 15), 50 yen for children (4 to 15).
Getting there
By car:
Numazu IC of Tomei Expressway -> Route 1 (Mishima and Hakone direction) -> turn left at Mishima Tamagawa crossroad -> drive straight -> turn left at crossroad of Mishima Station -> parking lot of Rakujuen
Public transport
3 minutes walks from the south exit of Mishima Station
Parking lot
200 yen within 2 hours, 50 yen will be added every 30 minutes when passed the first 2 hours.
Toilet
Available
Contact
Tel. 055-975-2570
Website
http://www.city.mishima.shizuoka.jp/rakujyu/index.html
* Please refer to the latest info before visiting place.