Hakone Ropeway and Owakudani Valley
I went to Owakudani today on a ropeway. It was awesome …
According to Yahoo map to get to Owakudani Valley you'll have to take a long walk like 40 minutes from Gora, But no worries, there is a ropeway.
Starting from Tugendai I transferred to a Hakone Ropeway service and arrived at Owakudani Station via Ubako Sta.
Since the number of total ridership to the Hakone ropeway exceeded 2 million, this name is on the Guinness Book of World Records. The scenery from the ropeway is superb and you can enjoy the sight of Mount Fuji when the weather is clear too!
Too bad I couldn't see it when I went there!
But fortunately I was the only passenger at the moment. I could walked and took a photograph as long as I want over there. Is this all so-called 360 degree view?!
I felt like totally skywalking as seeing outside scenery.
I was tense a little before getting on because of heights. But I realized that a ropeway was not far from the ground. I thought that I won't die even if I fell into the ground anyway, a relief.
Then, suddenly strong wind began to blew on the way to Mt. Sou-un-zan Station, also the height went up at a stretch and I got scared so that I decided to sit down quietly because.
These are "bell of the happiness" and a monument of Guinness World Record Authorization at Owakudani Station.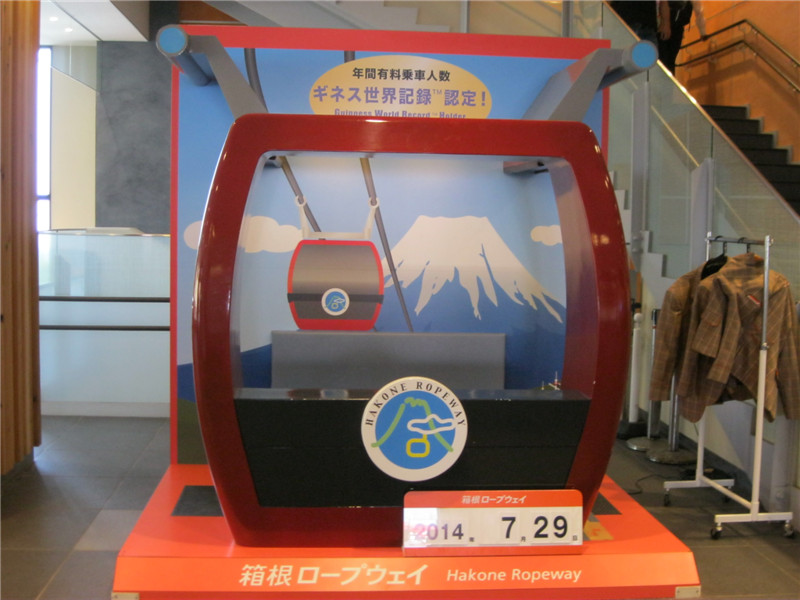 Owakudani Valley is one of a famous tourist attraction in Hakone, and chosen a a top 50of Kanagawa Pref.'s picturesque sceneries". At Hakone surrounded in green, it's just here that appears desolated surface of the earth, with white smoke all around. It's quit demon-ish!. Before the Meiji era, this place was called "Hell Valley".
The ferocious and dynamic scenery has the beauty to move people's heart.
Let me tell you what this white smoke is. It's volcanic gas and a proof of the volcanic activity.
You can smell the unique smell of the volcanic gas soon as you approach here.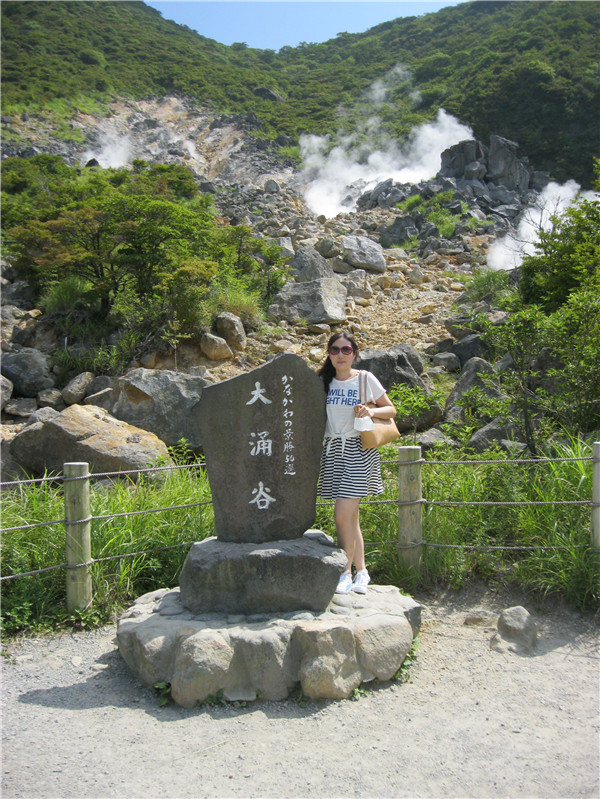 Owakudani is famous for black eggs. Hello Kitty! isn't it cute!
But why is it black?
The black of the black egg is iron sulfide, and iron that spring contains and hydrogen sulfide in the volcanic gas react and turn it into black.
Lifelong expectancy could grow longerif you eat this black egg. Everybody eats black eggs there, regardless of age or sex. Life extension is a common wish somehow or other.
An uncle boiling black eggs in a hot spring. By the way, boiled eggs will be delivered to a restaurant by ropeway service.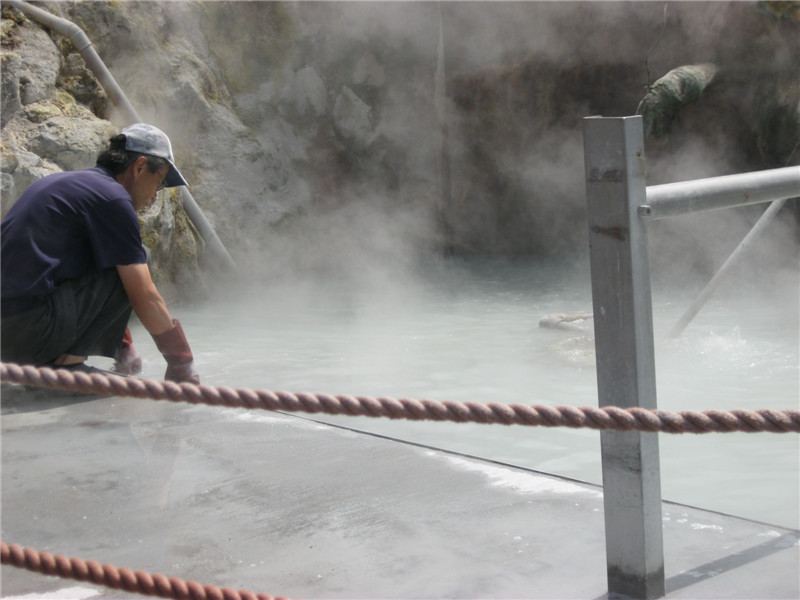 Well, does everybody know anime "Evangelion?"
The place where Shinji mad a runaway and wanded was here. I stood still here and watched the scenery of the third Shin-Tokyo City.
It is the original drawing and real scenery. Do you not think that it is great?
Ahead of such a grand scenery, will all troubles fade away in this smoke like wind too maybe?
Before a masterpiece of nature, we human being sometimes can think of only left feeling impressed.
Basic Information
| Name | Owakudani Valley |
| --- | --- |
| Address | 1251, Sengokuhara, Hakone-machi, Ashigarashimo-gun, Kanagawa |
| Closed | — |
| Open hours | From 8:00 a.m. to 17:30 p.m. |
| Fees | — |
| Getting there | Use Hakone Ropeway service from Tougendai stationTo homepage of Hakone ropeway |
| Parking lot | Available |
| Restroom | Available |
| Contact | Oku Hakone Tourist Association TEL Co., Ltd.: 0460-84-9605 |
| Website | To homepage of Owakudani |
* Please make sure the info you see is the latest in advance.