Vast sea on the left, towering mountains on the right. Driving through Atami and Shimoda, via the coast line road, passing the secret forest road with lush green, finally we arrived at the mysterious Ryugu-Kutsu (Cave of Dragon Palace). I walked through a dark tunnel, entered into a world of exuberant green, suddenly felt cheered up. The nausea feeling from the long ride had also evaporated. There was a doorplate hunged on the entrance of Ryugu-Kutsu, I thought we should keep walking further to the inner area, but it turned out we have to go down to the underground.
From the doorplate, wrapped in a unpenetrating tranquilness, a very steep stone staircase stretches into the underground. Toward the darkness, we started to walk on the staircase tentatively, after tunning a conner,we suddenly saw few beams of light shot from the inner side of the cave. Further went on, we reached cobbled water bank, the place was full of moss and plants I had never seen before. There is a big hole covered with trees on the celling of the cave which opened to the sky. Sunlight beams down from the hole, penetrate shadows and lighten up the dark cave.
The bottom of the cave is interlinked with the sea, clear and cool sea water constantly flow from the sea through a hole on the wall of the cave. It's funny place for children to visit during summer. On great sunny days, full rays of sunlight pouring down from the upper hole, lighten up the entire cave. To me, the place looks like a sacred heaven where fairies and angels dwell.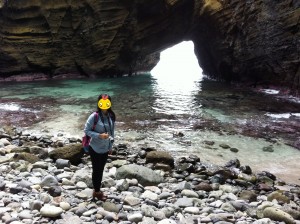 It is off season for sightseeing when we visited, we didn't meet a single tourist out there. Someone piled up some beautiful stones which had a nice sense of design, I was totally delighted by that The cave was kept clean, there were no trashes left on the ground of the cave. Tourists visited here all brought back their trash while left the beautiful of the cave without any contamination.
Information
| Name | Ryugu-Kutsu |
| --- | --- |
| Address | Toji, Shimoda |
| Closed | Open everyday throughout the year |
| Fee | Free |
| Acess | Drive via Route 136 and turn left at the traffic sign of "Toji Iriguchi", a "Ryugu-Kutsu" sign can be seen before reaching the Traffic sign of "Sandbank". |
| Parking lot | 10 spaces Charge applied during business hours of the beach resort. |
| Toilet | Free |
| Website | http://www2.shimoda-city.info/shimoda/FMPro?-db=shimoda_kan1.fp5&-lay=web&-format=page_look2.html&NO=204&-find |
* Please refer to the latest info before visiting place.