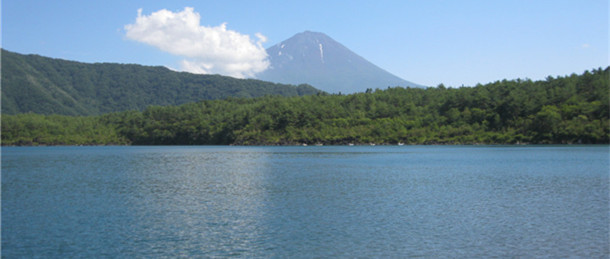 Summer Fuji Five Lakes (Saiko)
It is Saiko this time.
I was about to giving it up in a heart today to see Mount Fuji, but mercy on me! ( • ̀ω•́)✧
Mount Fuji turned up in front when we got off car in Saiko. All the clouds seemed to go to Lake Yamanaka and Lake Kawaguchi somehow or other.
Impressive! Though there is not snowcap, it is great! It is great first of all!
It is the figure of the king and totally different from the othersmall mountains around here!
I was fascinated by a feeling of pressure from mountain such as "me can handle the cloud unlike you".
After all we are lucky! (,• ₃ •,,)
Unlike four other lakes, the Saiko is myrtle green. I liked the color.
Because it is small, the pleasure boat cannot float. Because the surface is quiet, it does not match a motorboat either. An unhurried feeling is the best for a yacht.
Besides, this makes the most natural scenery because there is no hotels in the shore.
* Please make sure the info you see is the latest in advance.