Shiraito Falls is one of the 25 sites which reflect the essence of Fujisan's sacred and artistic landscape, which along with the others were collectively registered as a world heritage under UNESCO. Paired with Otodome falls, it is also one of "Japan's top hundred waterfalls", a ranking compiled by the Japanese Ministry of Environment.
The waterfall was so named due to it resembling countless white threads. This was possible due to the formation of the lava bed which funnels the river into countless thread-like streams.
Surprisingly, the waterfall was not difficult at all to access. A short bus ride from Minobu line Fujinomiya station and a short walk was all it took.
Visitors would see the Otodome Falls first if they followed the trail from the main entrance.
A pretty great waterfall in its own right, but pales in comparison to Shiraito Falls.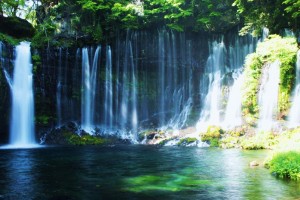 Just look at how magnificent it was.
And here's a closeup
Other angles.
Such wonderful natural scenery couldn't be found in my country, so I wanted to appreciate it for as long as I could. I sat on the rocks and watched waterfalls for a long time. It was real peaceful. Perhaps my new favourite nature site in Japan. It goes without saying, but I highly recommend this place.
By Desheng.
Information
| Name | Shiraito Falls |
| --- | --- |
| Location | 〒418-0192 Shizuoka Prefecture, Fujinomiya, Kamiide, Hara |
| Contact | 0544-27-5240 |
| Homepage | http://fujinomiya.gr.jp/shiraito/index.html |
*Please check for the latest information before visiting.
* This article was written by a trainee from overseas. Please note that there might be spelling and grammar mistakes.