I visited Niji no Sato (rainbow village) in Shuzenji, Izu city.
This was a park with six smaller sections of different themes. Takumi Village, Izu Village, Canada Village, British Village, Japanese Garden, and Fairy Garden. Each section had their own charm in the form of different architecture, museums, restaurants, and flowers. In particular, this park was known for having a fifteen-inch gauge railway, the Romney Railway.
Right at the entrance, one would be welcomed by an array of beautiful flowers.
The entranceway had the flags of Japan, Canada, and UK hanging over it, signifying the park's close ties with those two countries. Izu city is the sister city of Nelson city of Canada, which Canada Village was based on. The fifteen-inch gauge steam locomotives were made by Ravenglass and Eskdale Railway in Cumbria, England.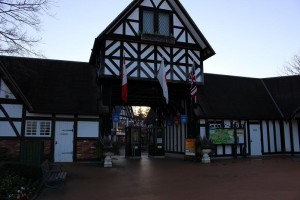 Upon entering, I found myself in a little piece of good old Britain. There was the Romney bus outside the Romney station, and the Romney steam locomotive within the station, both of which served as transportations to reach other parts of this huge park. That said, it was entirely possible to travel the entire park on foot. Riding a steam locomotive, even more so a 15 inch gauge one, should be a novelty for most people of this time and age. I highly recommend everyone to ride it at least once.
The British Village had a 15-inch Gauge Railway Museum, which taught me plenty about the history and workings of steam locomotives. There were also miniature models of the steam locomotives used in the park on display. It also had a miniature town with a railway running through it and visitors could press a button to make the steam locomotive run. It didn't move when I pressed the button though. Hope they would fix that soon.
North of British Village was Izu Village, which was basically a shopping area. It was designed to resemble a shopping district of old Japan. There were plenty of souvenirs and Japanese food products, including Izu local specialty.
As I descended the stairs, I was greeted by a kind old lady who offered me a cup of warm mushroom tea. The shop also had Shuzenji black rice, which was a local specialty sold in almost every souvenir shop in Shuzenji.
Takumi Village was next. The buildings had Kayabuki-style roof, meaning they had roofs thatched with dry vegetation. There were many workshops, but almost all of them were closed by the time I was there. For visitors, take note that from October to March the workshops only open till 3 pm. Otherwise they open till 4 pm.
Even though I missed all the workshops, there were three unmanned exhibits here for me to see. A farming tool museum, a Japanese toy playground, and Tominaga Ichiro ninja comics hall.
The Japanese toy playground was rather interesting. I believe those toys were popular a few decades ago. If I were born in Japan I might have known some of them. They were a simple way to kill some time.
As for the ninja comics hall, the comics on exhibit were wacky and they were a whole lot of them. They were some comic books on sale for those interested.
During this period of time, the Japanese garden was almost entirely void of flowers. Those who wish to visit for flower viewing, do avoid December if possible. There were some daffodils in half-bloom when I was there, but overall the Japanese Garden had nothing much to offer in late December.
The final place I had time for was the Fairy Garden. This garden featured a "Royal Rose Garden", which was a garden built on a slope. It had roses of so many colours I lost count halfway through.
Then, there was "The alley of a fairy", which were a series of flowerbeds.
After that there was the Canadian Village, which I had to skip entirely due to the park-wide announcements of closure. I spent 2.5 hours here and only experienced about half of what it had to offer. There was nothing I could do about that, so I walked back through the Four Seasons Road.
The journey through Four Seasons Road was a relaxing 10 minutes stroll (albeit there was the closing music playing in the background prompting me to get out).
Last thoughts and advice : I did feel a tinge of regret for not leaving my visit here for later, perhaps March or so. The least I could do now was to give some tips for future visitors reading this article. Firstly, this was a really big park, so a good 5 hours or sowould be needed to see all everything it had to offer. Secondly, the Japanese handicrafts workships in Takumi Village end one hour before the park's closing time, so do visit those early. Thirdly, flower lovers should consult the below picture to decide when to visit.
By Desheng.
Information
Name
Shuzenji Niji no Sato
Location
4279-3 Shuzenji Izu-city Shizuoka 410-2416
Contact
0558-72-7111
Opening hours
April~September/9:00am~5:00pm
October~March/9:00am~4:00pm
Closed
Every Tuesday, mid-December and late January.
Access
By train : From JR Mishima station, take Izu Hakone Sunzu line for 30 minutes and alight at Shuzenji station. From Shuzenji station take a Tokai bus (Niji no Sato bound bus line 6) for 20 minutes and alight at Niji no Sato.
By ferry : From Shimizu port, take the Suruga Bay ferry bound for Toi port which takes 1 hour. It is a 40 minutes drive on the Japan National Route 141.
※Estimated duration required might be different depending on the traffic conditions.
Homepage
http://www.nijinosato.com/index.html
*Please check for the latest information before visiting.
* This article was written by a trainee from overseas. Please note that there might be spelling and grammar mistakes.