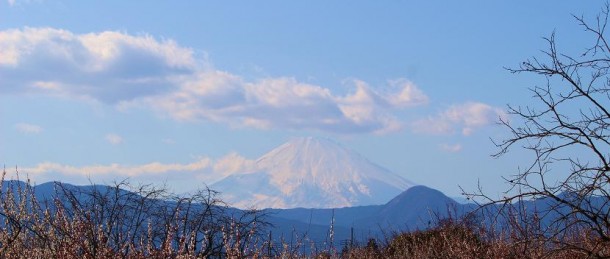 Odawara plum festival was held at the Sogabessho plum forest from February 6 to March 6. Across the span of a month, visitors could enjoy viewing a large variety and even larger quantity of plum blossoms blooming beautifully.
Regarding the plum festival and its history, the offical site has a great explanation.
"About 600 years ago in Kanagawa prefecture Odawara, during Hojo's time plum trees were planted beneath the castle to supply plum seeds for soldiers. During the Edo Period, under feudal lord Okubo's policy plum cultivation were encouraged and greatly increased. In addition, Shukubamachi, an important stop in crossing Hakone, dried plums were greatly cherished as an essential travel item (to prevent bentou from spoiling, quench thirst, and a healthy food).
In Odawara's Soga plum forest, plum were grown for food. As beautiful plum blossoms accompany the growth of plums, about 40 years ago local farming committee members decided to start a plum blossom festival." An excerpt from the official website.
En route to the plum forest, there were already plenty of plum trees to be seen. The surrounding areas were mostly fields growing crops, so it felt very much like a countryside.
Upon entering the plum forest, there were several food stalls and tables for visitors to dine on.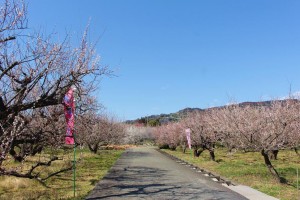 The sides of the roads were lined with countless plum trees. It actually felt like a maze of plum trees.
Pick a clear day to visit, because if you do, you will get this amazing view.
Do take note that this place wasn't made for tourists. The plum trees were planted for plum harvests. This was why it had no well-defined start and end points. This was also why there were such an incredible number of plum trees here, and why the surrounding areas were farms. All in all, great for a slow afternoon stroll.
By Desheng.
Information
| Name | Sogabessho Bairin |
| --- | --- |
| Location | 282 Sogabessho, Odawara, Kanagawa Prefecture 250-0205 |
| Dates | 6 February 2016 ~ 6 March 2016 |
| Contact | 0465-22-5002 |
| Homepage | http://soganosato.com/index.html |
*Please check for the latest information before visiting.
* This article was written by a trainee from overseas. Please note that there might be spelling and grammar mistakes.