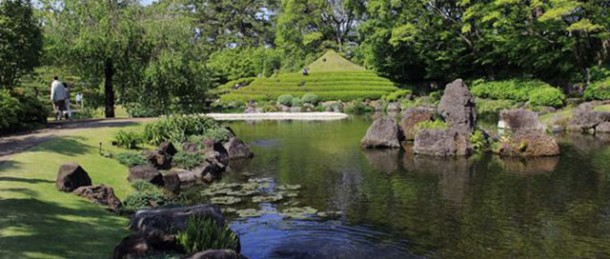 Address 1-1, Sunpu-Jo Kouen, Aoi-ku, Shizuoka-shi, Shizuoka Prefecture.
Parking lot No dedicated parking lots (There are 246 toll parking lots near the City Community Center of Culture).
Access by public transport: A 10-minute walk from the Shizuoka Station of the JR line.
Photo taken on May 2013 (updated on May 2013)
Place around the Higashi-Mikado (the eastern gate) in the park
The park was established on the site of the Sunpu-jo Castle which was the place where General Ieyasu Tokugawa spent the last years of his life mainly at there. There are flower beds and lawn open space in the park, It is used as the relaxing place for tourists as well as for the local residents.
Inside view of the Tatsumiyagura
One of the popular site for tourists to visit is the Higashi-Mikado (the eastern gate) and the Tatsumiyagura. After the restoring construction work is finished, the place is served as a museum where visitors can learn about things in those days. There are ample space in the Yagura building, the moat surrounding the architecture and the castle is with a view of splendid scenery.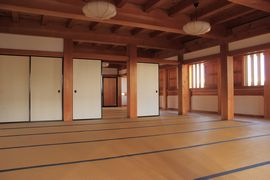 Inside view of the Tatsumi-Yagura (2)
Momijiyama Garden Entrance
Inside the park
inside the park (2)
Momijiyama Garden
There is a beautiful Japanese garden in the park. In the tea house of the garden, you can enjoy a cup of tea while looking at the beautiful garden. The garden is built and divided into four different themes as the Village, the Sea, the Mountain Village and the Mountain Garden.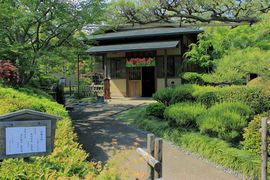 Momijiyama garden 2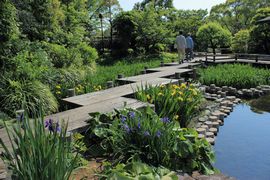 Momijiyama garden 3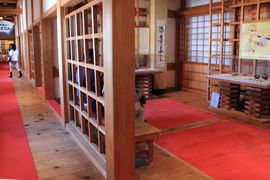 Inside view of the Tatsumi-Yagura (3)
Moat around the park
Momijiyama Garden (4)

※ This article is provided by the courtesy of "Usagi no Heya (Rabbit Room)", the blog provides tourist attractions information of Kanagawa Prefecture and the surrounding areas including Izu, Hakone, Kamakura, Yokohama and Yamanashi. http://livesnow.web.fc2.com
※ Please make sure the info you see is the latest in advance.