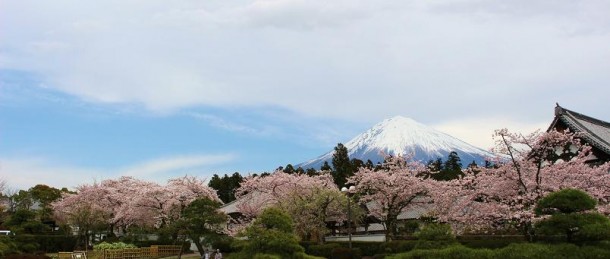 Taiseki-ji is the head temple of the Nichiren Shōshū school of the Nikko branch of Nichiren Buddhism. 5000 Yoshino cherries and weeping cherries all around the huge temple grounds bloom in mid-April.
Perhaps the greatest charm of the temple was its close proximity to Mt. Fuji. On a clear day, it is possible to see the temple with the sacred mountain as a backdrop. Add cherry blossoms to that and you got a picture perfect scenery. I happened to visit on such a day.
Weeping cherry blossoms lined the two walkways into the main temple buildings. Unfortunately, they were not in full bloom when I was there.
The Mieido and the Hoando were both impressive buildings in their own right. These places were not meant for tourists though, so all I did were take pictures.
The best photo spot was hands down the garden.
Outside the main temple complex, there were many great photo spots as well. There were hardly any tall buildings here, so it was possible to take unobstructed shots of Mt. Fuji from pretty much anywhere.
The temple offers a very solemn atmosphere, and that might be a huge plus for some people. Quantity-wise, the number of cherry trees are also top-notched. This is the place to go for cherry blossom viewing if you are looking to see both cherry blossoms and Mt. Fuji together.
By Desheng.
Information
| Name | Taiseki-ji |
| --- | --- |
| Location | 2057 Kamijo, Fujinomiya, Shizuoka Prefecture 418-0116 |
| Contact | 0544-58-0810 |
| Dates | Early April to mid-April |
| Homepage | http://hanami.walkerplus.com/detail/ar0622e60244/ |
*Please check for the latest information before visiting.
* This article was written by a trainee from overseas. Please note that there might be spelling and grammar mistakes.