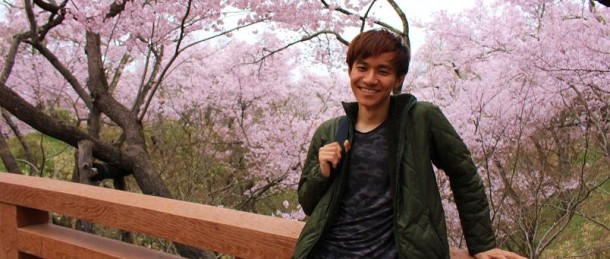 Takato Castle Ruins Park Cherry Blossoms Festival
Takato Castle Ruins Park is famous for being one of the top three cherry blossoms viewing spot in the whole of Japan. In April, with 1500 Takato Kohigan cherries in bloom, the park becomes almost completely enveloped in pink.
First and foremost, let me say that this was hands down the most amazing cherry blossoms spot I have been to. Even though it was far out in Ina city of Nagano prefecture, it was worth the time it took to travel there. Almost everywhere in the park, the sky was half blotted out in a canopy of pink. They claim to be the "tenka ichi no sakura" (number one cherry blossoms under the sky), and perhaps they are right about it.
The first building you would see upon entering the north entrance was the Takato-kaku. It was built in 1936 as a rest and gathering place within the park. During the festival month of April, it costs 200 yen to rest here due to the sheer number (around 250,000) of visitors to the festival.
The insides of the park were extremely crowded with both people and cherry blossoms. As you can see, the colour pink dominated most of the photo. Amazing, huh.
People set up picnics everywhere to eat bentous, drink beer, chat, and overall just have a good time.
Looking at the city of Ina through cherry blossoms.
Just look at how thick the cherry blossoms bloomed!
A close-up with the cherry blossom.
Left : Takato Kohigan cherry.
Right : Weeping cherry.
Some good photo spots.
Lots of snacks, drinks, and proper food were sold in booths set up all over the park. I had something called "Romen", a Ina local specialty, and a melon soda lamune.
Everyone ought to visit this park at least once in their life. It was just so wonderful; the cherry blossoms, the atmosphere, and the scenery.
By Desheng.
Information
Name
Takato Castle Ruins Park Cherry Blossoms Festival
Location
Takatomachi Higashitakato 2301, Ina, Nagano, 396-0211
Contact
0265-94-2551
Price
Adult (high school and above) : 500 yen
Middle school students and below : 250 yen

Dates
Early April to mid-April

Access
From Shinjuku station, take a limited express for 2.5 hours and alight at Okaya station, then switch to JR Iida line and alight at Inashi station after an hour. Take a bus for 25 minutes to Takato station, and walk for 15 minutes to Takato Castle Ruins Park.
Homepage
http://takato-inacity.jp/h28/
*Please check for the latest information before visiting.
* This article was written by a trainee from overseas. Please note that there might be spelling and grammar mistakes.