Toi Gold Mine was a highly productive gold mine in the Edo period. Today it is a tourist attraction, with a tunnel tour that takes visitors for a walk back in time and see how life was like for gold miners back in those days, a Gold Museum with various gold related items on exhibit, and a hot spring gold panning game.
Shortly upon entering, you would be greeted by one of the mascots of Toi Gold Mine, the raccoon Doukichi.
Firstly, the tunnel tour. The total length of the tunnel apparently exceeded 100 km, believe it or not. Only a small fraction, 400 meters, was open to tourists. Various scenes from the life of a gold miner was depicted via electrically-powered dummies. They would move as you walk past them.
The single greatest thing about this tunnel was that… it had English texts! Granted, the English wasn't exactly grammatically sound, but for a tourist attraction so far out in the countryside to have English texts was nothing short of a miracle.
Some depictions of life back when the gold mine was in operation.
This mannequin looked incredibly realistic.
Halfway through the tunnel, there was a golden torii and shrine. Praying here would apparently be good for one's financial future.
Here's what the tunnel looked like. I loved the atmosphere.
Next up was the Gold Museum. The two greatest attractions here were a 1/8 scale model of a Sengoku Bune (a japanese wooden sail ship used to transport cargo), and the largest gold bar in the world.
The Sengoku Bune.
And the 250 kg gold bar.
Here's the Guiness World Records certificate.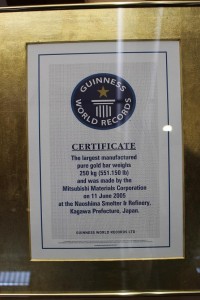 There were holes for you to poke your hand through and touch the gold bar. Wouldn't it be great if I could have even a tiny fraction of this gold bar…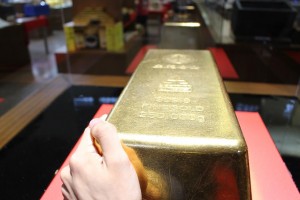 Would you like to have a guess how much this gold bar was worth? A hint : 10 digits in Japanese yen.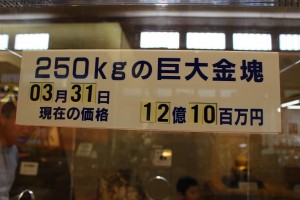 The answer : 1,210,000,000 yen. That's a lot of money. Drools.
The last segment was the hot spring gold panning. As the name suggests, visitors could pan for gold dusts from a hot spring.
These were the instructions. The staff would guide you, so even if you couldn't understand these instruction you would be fine.
This was what the gold panning looked like.
And here was one gold dust I dug out. Look at the middle of the photo.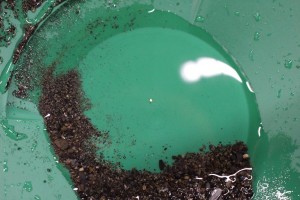 That's all for the report. All in all, a fun and educational place. I'm not superstitious so the golden shrine and gold bar touching were not a big deal to me, but I'm sure some people would love those. The gold panning would probably be a lot more fun with a group of friends. Most importantly, the place was foreigner-friendly!
By Desheng.
Information
Name
Toi Gold Mine
Location
2726 Toi, Izu, Shizuoka Prefecture 410-3302
Contact
0558-98-0800
Opening hours
9AM to 5PM ( last entry 4:30PM )

Closed from Dec 1 to Mar 19 every year.

Price
Entry ticket :
Adult (middle school and above) : 860 yen
Children, 6 to 12 : 400 yen

Access
From Izuhakone Railway's Shuzenji station, take a bus for 50 minutes and alight at "Toi Kinzan".
Homepage
toikinzan.com
*Please check for the latest information before visiting.
* This article was written by a trainee from overseas. Please note that there might be spelling and grammar mistakes.