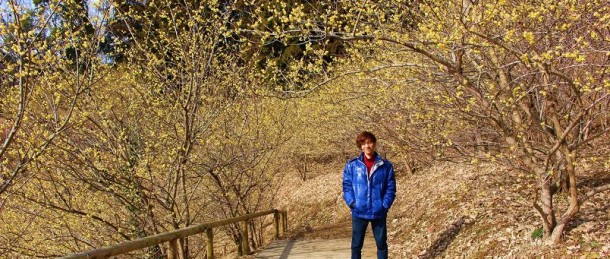 Good day everyone. It's your friendly travel reporter again. Today I went to look at robai flowers, which was also known as Chimonanthus praecox or wintersweet. Until recently I had never even heard of this flower before, so I departed for Matsuda's Yadoriki Robai Park with much anticipation.
This will be an article of mainly photos. Please enjoy.
Here's some quick information regarding wintersweet taken from Wikipedia.
"Chimonanthus praecox, also known as wintersweet or Japanese allspice, is a species of flowering plant in the genus Chimonanthus of the family Calycanthaceae, native to China. The plant is known as rōbai (蜡梅) in Japanese and làméi in Chinese.
It is a vigorous deciduous shrub growing to 4 m (13 ft) tall with an erect trunk and leaves 5–29 cm (2–11 in) long and 2–12 cm (1–5 in) broad. Its strongly scented pendent flowers, produced in winter (between November and March in UK,[4]) on bare stems, have 15-21 yellow or pale green-yellow, tepals, the inner ones usually with purplish red pigments."
This would be a good place for a drink, surrounded by the beautiful yellow of the flowers and their soothing fragrance. An ideal place to bring a loved one.
Lastly, a photo of me!
This was a flower park high up in the mountains, so it wasn't easy to access for sure. Still, the wintersweet were so beautiful that I was glad I came. For those who had never seen one before, I do recommend coming here at least once.
By Desheng.
Information
Name
Yadoriki Robai Festival
Location
Yadoriki 3384, Matsuda, Ashigarakami District, Kanagawa Prefecture 258-0001
Contact
0465-89-2960
Opening period and hours
The 5th Robai festival is held :
16/1/2016(Sunday)~21/2/2016(Sunday)
Opening hours :
  9 am to 4 pm

Access
By train
  (1)Alight at Odakyu line Shin-matsuda station north exit OR Alight at JR Gotemba line Matsuda station south exit.
  (2)Take Fujikyu-shonan bus line 3 bounded for "Yadoriki" and alight at the last stop. (Bus ride about 30 minutes long) Check the bus schedule here.
Homepage
https://town.matsuda.kanagawa.jp/site/5roubai/
*Please check for the latest information before visiting.
* This article was written by a trainee from overseas. Please note that there might be spelling and grammar mistakes.