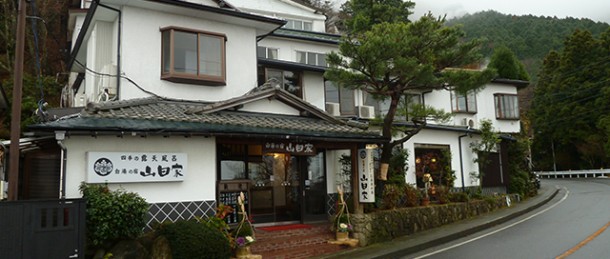 White hot spring from the hotel Yamadaya
The water is natural water. This Japanese style ryokan (small hotel) uses the underflow water "Kasansui" which is from the Hakone's highest moutain in all of it's buildings!
In addition to the good view which can overlook Hakone outer rim of a volcanic crater in all rooms; a hinoki bath of the white turbid hot spring, the substantial hot spring including the open-air bath of the Hakone yosegi zaiku. A parlormaid carries the specially made dish on full of the senses of the seasons of the chef with a friendly service.
Address 1320-907, Gora, Hakone-machi, Ashigarashimo-gun
Getting There
From Tomei Expressway Atsugi IC – Odawara-Atsugi Expressway Hakone Exit IC R1 Hakone area approximately 25 minutes.
Provide pickup service frome Hakone Tozan Railway terminal Gora Station.
It is less than five minutes on foot from station
Pickup: Provide pickup service (have some requirements)
Parking: Availab.e, free of charge
URL: http://www.2641.net/
※ Please make sure the info you see is the latest in advance.