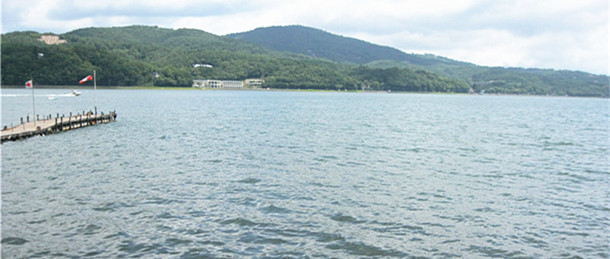 Summer Fuji Five Lakes (Lake Yamanaka)
My trip to summer Fuji Five Lakes began from Lake Yamanaka. Lake Yamanaka is the largest among five lakes.
I stopped a car at a car park and took a walk on the shore.
It doesn't turn up from behind a cloud though Mount Fuji was just in front. (๑ ° ㅁ ° ๑)‼
The water is clear. Nice sunlight, making a surface shine.
We can board a swan-shaped pleasure boat here. But it is an amphibious bus called "KABA BUS" to be more popular than a pleasure boat. I saw KABA BUS running on land, but I wonder a little of how it runs in the water.
Shops sell the bait of the carp at a pleasure boat platform and you can enjoy feeding. A carp greatly opens a mouth and waits for bait. I am weak at a stuff like this. . .
Because a camp facility is completely equipped in the area of Lake Yamanaka, it seems to be popular among students. I saw tha herd of students from car window along the shore.
That reminds me the camp seems to be a constant seller of the youth animes. There are a lot of animated cartoons deepening the friendship of chief characters through a camp including "depression of cool air shrine haruhi" "keion!".
I guess it must be fun to do barbecue with a friend in a mountain.
* Please make sure the info you see is the latest in advance.