Yugawara Plum Forest Ume no Utage
From early February to mid-March, beautiful plum blossoms will bloom at the foot of Mt. Maku, bringing colour to the otherwise dull mountain. A fanciful name "ume no utage", meaning "banquet of plum blossoms", is given to this annual event. Food stalls are set up and various performances were given over this period of time for visitors.
Let's have a little background on this event. The Yugawara plum forest was first open to public in year Heisei 8 (1996). This year sees the 21st time this event was organised. At the foot of the majestic Mt. Maku, 4000 red and white plum trees bloom and covers the mountain foot like a carpet, and the fragrance of plum blossoms permeates the mountain park.
The plum blossoms indeed looked like a carpet over the foot of the mountain. It formed a sharp contrast with the rest of the mountain.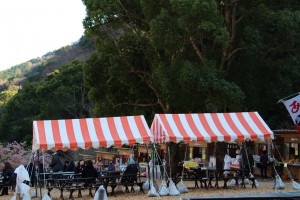 The rest area had many food stalls in operation. It wasn't crowded as it was a weekday afternoon. I believe it would be hard to get a seat on weekends.
There were two courses to take in the mountain. The strolling route and the hiking route. The strolling route was short and only at the foot area of the mountain, while the hiking route goes much higher up where there were no more plum blossoms. I took the strolling route.
At the end of the strolling course, there was a small waterfall. It was nothing impressive, but there were benches to sit and enjoy the view.
There were a group of seniors sitting near the waterfall and having a picnic. I noticed that the flower viewing crowds in all the places I visited so far tended to be old folks. It was a slightly heart-warming scene.
The most popular photo spot was this little pond here.
Here's a photo of people taking photos.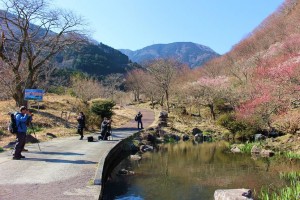 I missed the best period by a week or so. The plum blossoms were far from full bloom, as you could probably tell from my photos. 3 March was already too late for visit even though the event runs all the way till 16 March. Do try to visit by late February. Even though I left by afternoon, there's a night light up for those who prefer flower viewing at night, so check it out!
By Desheng.
Information
*Please check for the latest information before visiting.
* This article was written by a trainee from overseas. Please note that there might be spelling and grammar mistakes.