Odawara Minoya-Kichibee (Traditional Shiokara Museum)
Minoya Kichibee is a shop selling Japanese style side dish. They are famous for shiokara, made from salted squid and rice malt, first made by their 5th owner, Kichibee. Please take a look at this special shop at Odawara.
About Minoya Kichiibe Shop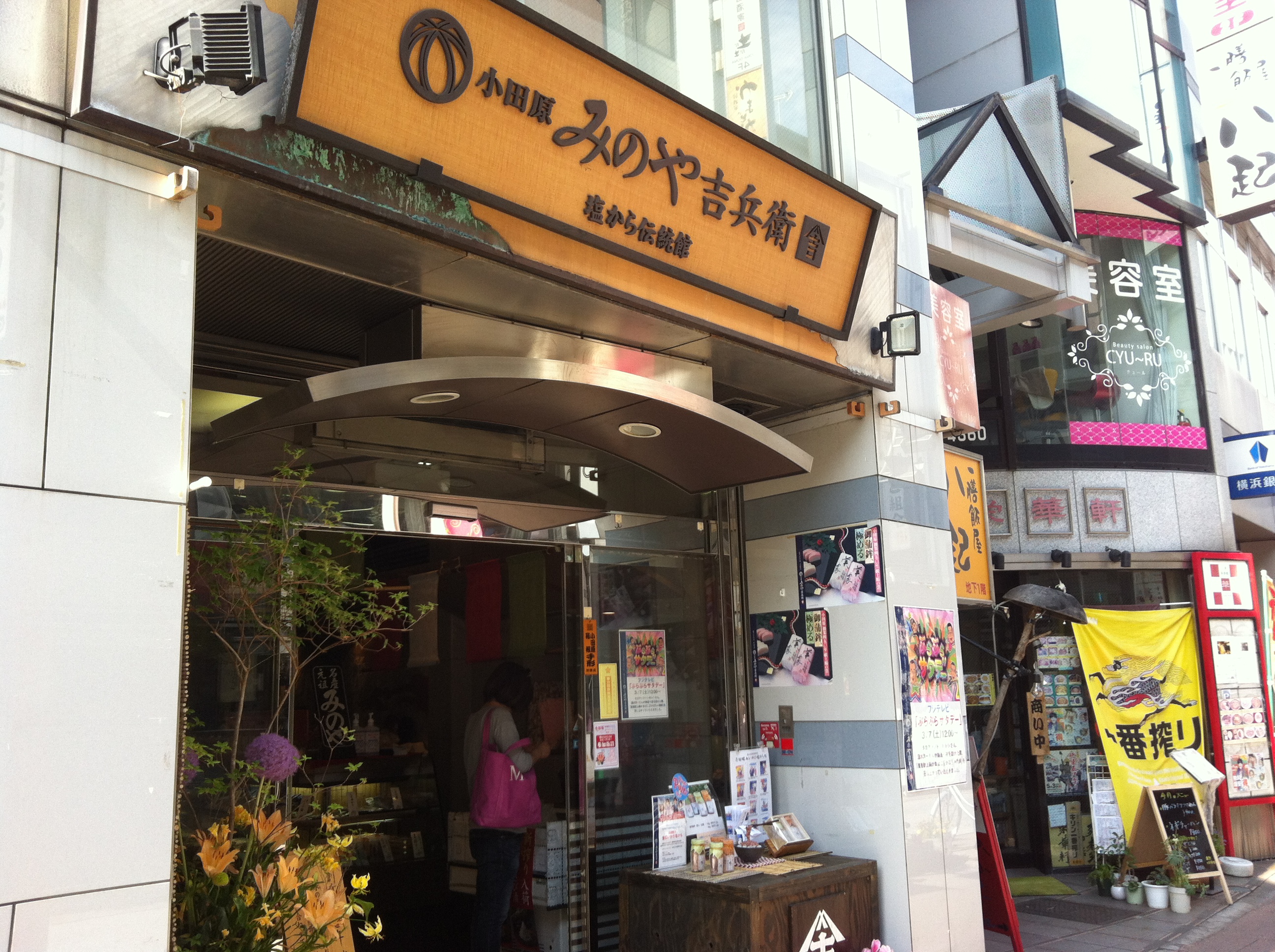 Minoya shop is very near from the Odawara station. It just need 2-3 minutes to walk there from Odawara station east exit. A little shop full with Japanese style side dish. When you enter the shop, they will serve you a sample of products, try it and you can choose which to buy without worrying you will not like the taste. Right now they have special kabocha (pumpkin) and edamame (green soybeans) flavor kamaboko.
The shop actually was a tsukemono shop from their first opening 450 years ago. Then, the 5th shop owner, Kichibee found the recipe to make delicious shiokara and until now its their recommended product. Shiokara is actually a way to preserve sea food, in this case squid, from decay and smelly. It is a side dish made from salted squid and rice malt.
The Shop – Second Floor
At the 2nd floor they are displaying the shop history. (I actually surprised that this shop has an elevator despite the small space!) This shop had flourished after 450 years of serving side-dish. Now they are under the care of their 22nd owner.
The sign explained about their shiokara product. How the 5th owner, Kichibee get drunk and bought many squid. Later he regretted his action because the squid are too much and will get bad soon. So, he tried to pour many salt over them so it don't get worse. After that he also added rice malt, it was actually a big success! Giving the squid more taste and shiokara are invented and produced, even until now. The sign also explained how shiokara is a healthy food and low in fat also calorie so you can eat it without ruining your diet.
Some of the stuff from the old day are protected to appreciate their history. First picture, the collection of their shop reviews at newspaper. Next is the photographs from their old shop. Right now their goods packed inside plastic or glass box. Back then they sold the shiokara in these beautiful jar (picture 3). The last picture is a wood signboard from the old shop.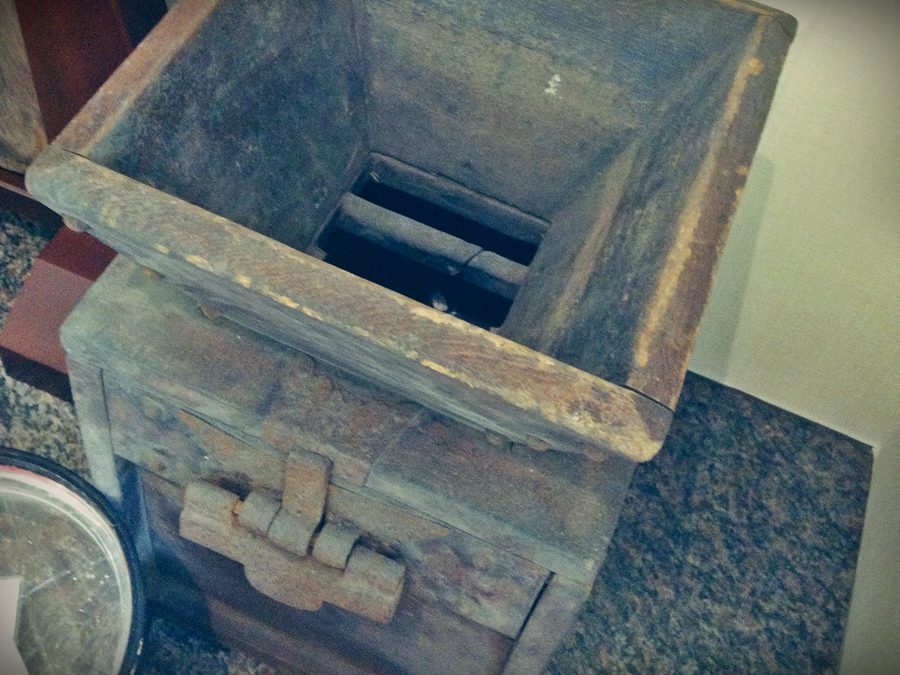 What is this thing? So, I think it is an interesting thing. Back then when no cashier machine, this is the "cashier machine". The shop attendant put the money in here and actually there are more wood grating so after the put in the money they couldn't steal it. Only the shop owner can took the money by opening the lock below.
The shop – First Floor
Going to the 1st floor where the shop located. Besides their main goods, shiokara, they also sell other Japanese traditional food. There are many types of kamaboko and wasabi to eat with the kamaboko, umeboshi and also chikuwan. For you who don't know, kamaboko is a seafood product, sometimes said as "fish cake" (the color and shape do look like cake, but the taste is fish taste XD ). Umeboshi is Japanese pickled plum (another article about umeboshi shop please refer here). Chikuwan kind of like kamaboko but different way of making, thus making the shape also different. 
Minoya treat me a little snack with warm green-tea.
Personally, I like kamaboko with edamame flavor (the green slice) 😀 Also please note that the wasabi for kamaboko is actually different than wasabi for sashimi or sushi. It is less spicy and stinky that the wasabi actually give a more tasty feeling to your kamaboko (at first I didn't want to eat the wasabi because I don't really like wasabi taste in my sashimi). I recommend you to buy kamaboko and the wasabi together to get the real taste.
-Vivi-
Information
Place Name
Odawara Minoya-Kichibee (Traditional Shiokara Museum)
Address
2-7-38, Sakaecho, Odawara-shi, Kanagawa, 250-0011, Japan
Closed Day
Open throughout the year
Contact
TEL:+81-120-18-1308
FAX :+81-465-23-6685
Access
Around 4 minutes walk from Odawara station east exit
Homepage
http://www.minoya450.co.jp/
* Please make sure the info you see is the latest in advance.